PRESTIGE set
We will send as soon as possible
Najniższa cena w ciągu ostatnich 30 dni: £1,098.99
Free shipping from 100 GBP!
10-piece pot set PRESTIGE PLUS - higher quality cooking
The set of steel pots from the Prestige Plus line is a unique proposal for those looking for high-quality products with an attractive design, convenience of use and durability.
Thanks to the 18/10 stainless steel, the pots are resistant to damage, corrosion and high temperatures.
Silicone seals under the lidhandle prevent them from getting too hot.
The lid is made of heat-resistanttempered glass.
The Prestige Plus pots are equipped with a special funnel, and a straining system with two types of strainers in the lid, which make it easier to pour liquids without lifting the lid. In addition, the saucepan has a funnel on both sides so that the pot is comfortable to use for both right- and left-handed people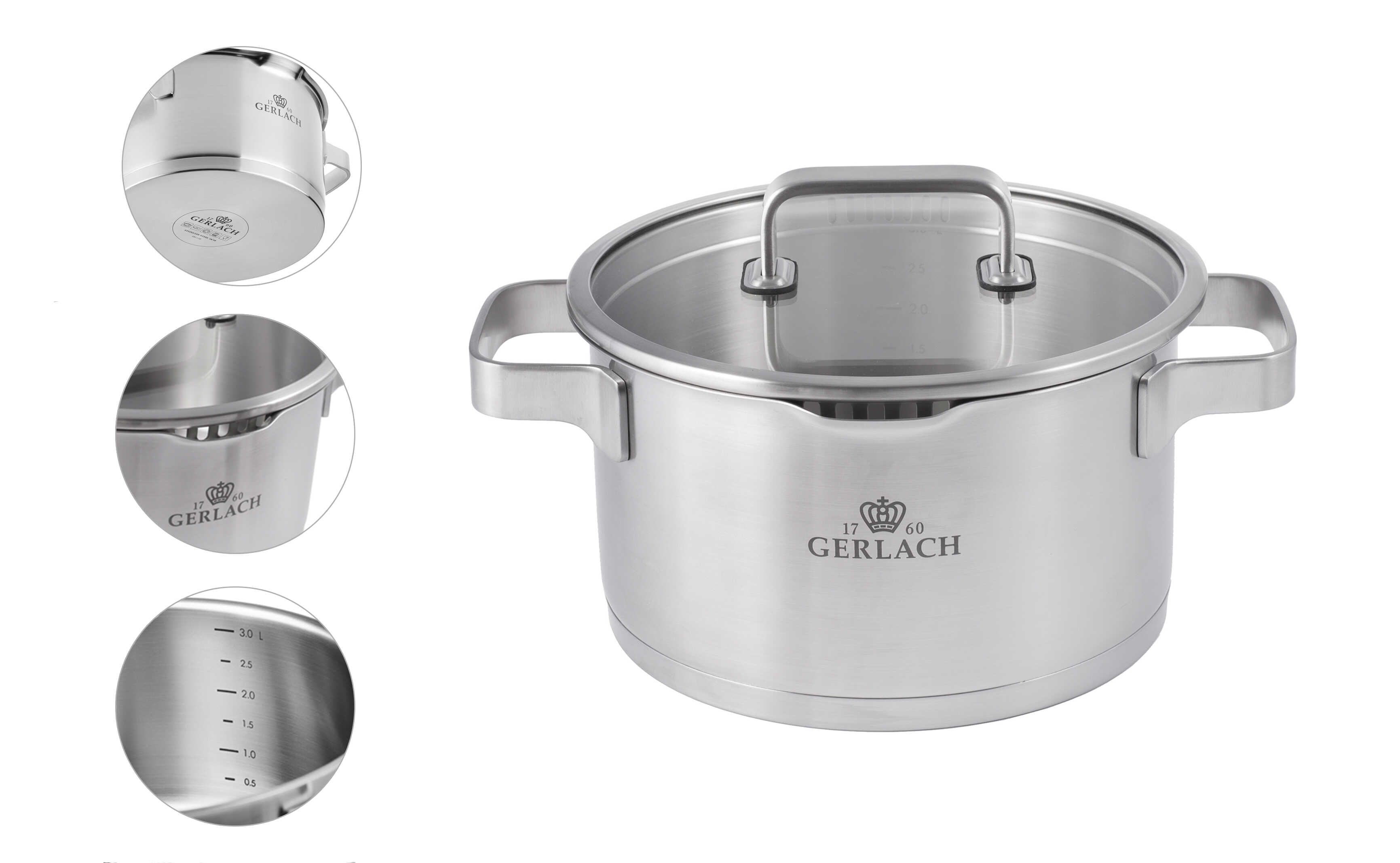 The three-layer base with an integrated aluminium disk ensures even heat distribution and prevents distortion.
In addition, it is suitable for use on all types of cookers (induction, electric, ceramic and gas).
An internal measuring cup makes it easy to measure liquids.
The elements of the set have a perfectly flat surface with no visible internal rivets.
Theprofiled handles of the pots ensure comfortable handling even of heavy pots.
Prestige Plus pots are exceptionally easy to clean - they can be washed in the dishwasher.
The pot set includes:
16cm saucepan - 1.5 l
Pot 20cm - 3.0 l
Flat pot 24cm - 2.5 l
Pot 24cm - 4.5 l
Pot 24cm - 6.0 l
Prestige knife set in steel block
The Prestige set is an elegant, square steel-coated block and 5 versatile knives with different functions.
The knives are made from X30Cr13 stainless steel with added chrome to protect them from corrosion. Each has an ergonomic ABS-coated handle for increased comfort during use. Thanks to it, the knives do not slip in the hand, even when wet.
The Prestige block knives, like the other models, are recommended to be washed by hand. This will prolong their life and prevent damage that can occur due to heat and chemicals.
The set includes:
8 " chef's knife - a versatile all-purpose knife, mostly used for cutting herbs, vegetables and meat.
Chef's knife8 " - an all-purpose knife similar to the chef's knife, but with a slightly narrower blade.
Santoku knife 5.5 " - a convenient and practical knife with a wide blade and distinctive indentations. It is suitable for most kitchen work and is often used interchangeably with a chef's knife.
Steak knife 4.5 " - a knife with serrated edge for easy cutting of meat such as steak.
Vegetable cutter 4" - universal knife with a short blade, ideal for peeling and slicing vegetables and fruit.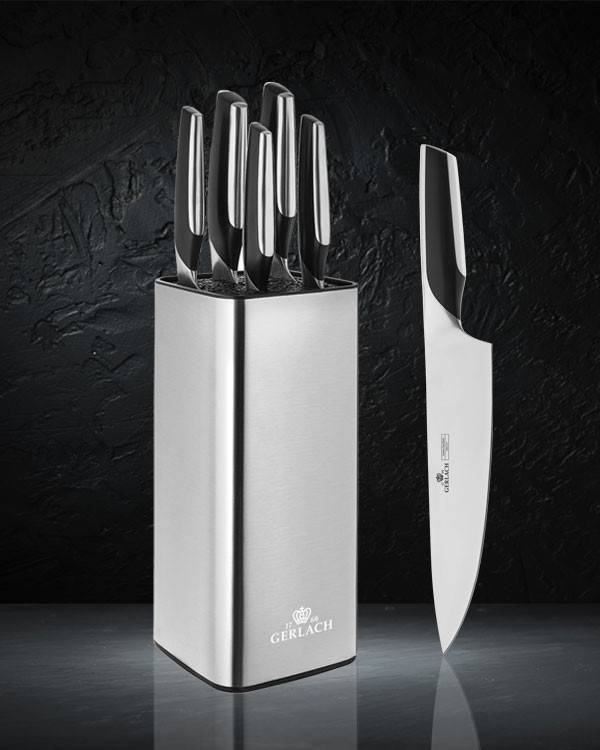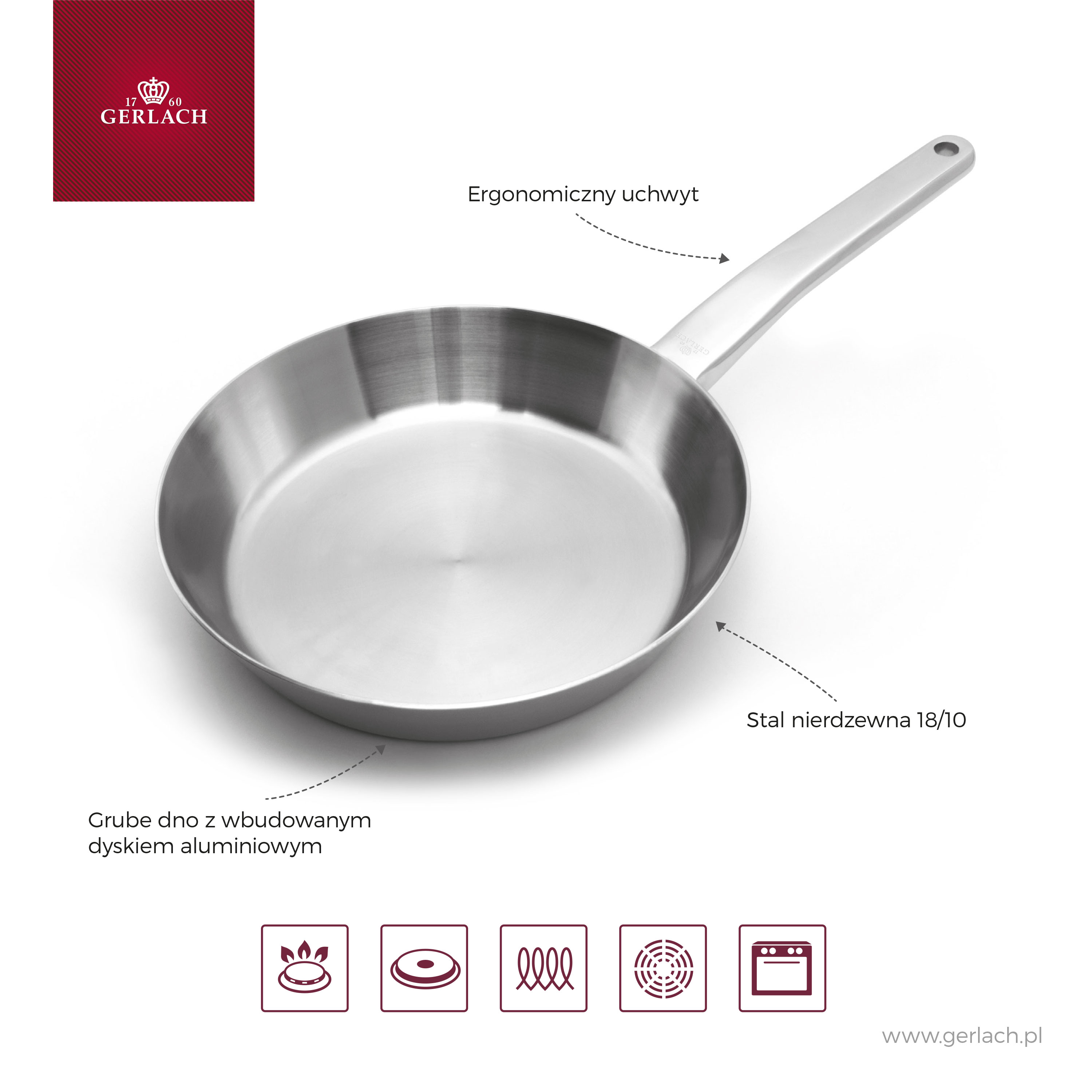 PRESTIGE 24 and 28 cm steel frying pan
Prestige frying pans are a combination of the highest quality materials, functionality and modern design. The special design means that the pan heats up quickly and distributes heat evenly, so it is ideal for frying meat. Fans of perfectly fried steaks will be delighted with this model.
The Prestige steel frying pan is made of top-quality 18/10 stainless steel, a robust pan that is scratch- and damage-resistant. The frying pan has been manufactured using high-quality materials that guarantee health safety, even when frying at high temperatures. In addition, the steel construction of the pan allows the dishwasher to be cleaned.
Thethick bottom with integrated aluminium disk ensures rapid heating, even heat distribution, facilitating the preparation of the most demanding products. It guarantees perfect frying, saving time and energy. In addition, it allows the pan to be used on all types of cookers: gas, electric, ceramic and induction.
The frying pan has an ergonomic handle, ensuring comfort in using the pan.
Set composition:
PRESTIGE steel frying pan 24cm
PRESTIGE 28cm steel frying pan
| | |
| --- | --- |
| model name | PRESTIGE PLUS |
| Style | loft |
Customers who bought this product also bought:
No customer reviews for the moment.