FLOW dinner plate set + cutlery set 24 pcs. TUNEA /6-person + AMBIENTE 6-piece cookware set + SOLID LITE frying pans 24/28cm
We will send as soon as possible
Najniższa cena w ciągu ostatnich 30 dni: £0.00
Free shipping from 100 GBP!
AMBIENTE 6-piece pot set
Ambiente pots are made of top-quality 18/10 stainless steel, thanks to which the cookware is extremely resistant to damage, corrosion, heat and is dishwasher-safe.
The three-layer bottom with integrated aluminium disk ensures even heat distribution combined with heat storage. Thanks to this feature, cooking is shorter and becomes more energy-efficient. In addition, it allows the cookware to be used on all types of cookers: electric, gas, ceramic and induction. The cookware is also suitable for use in the oven up to 180°C. Please note that temperatures above 180°C may cause discolouration of the cookware.
Thelarge and comfortable handles are designed to guarantee the greatest comfort when stirring food and carrying a heavy pot. There is a silicone pad under the lid handle to prevent excessive heat.
An internal measuring cup in the pots allows you to accurately measure the ingredients you are adding, and a special funnel will help you pour liquids. The series is equipped with an innovative straining function - it has two types of strainers in the lid.
The matching tempered glasslids fit perfectly around the rim of the pot ensuring that it is hermetically sealed.
Set composition:
Saucepan with lid 16cm - 1.0l
Pot with lid 18cm - 2.0l
Pot with lid 24cm - 5.0l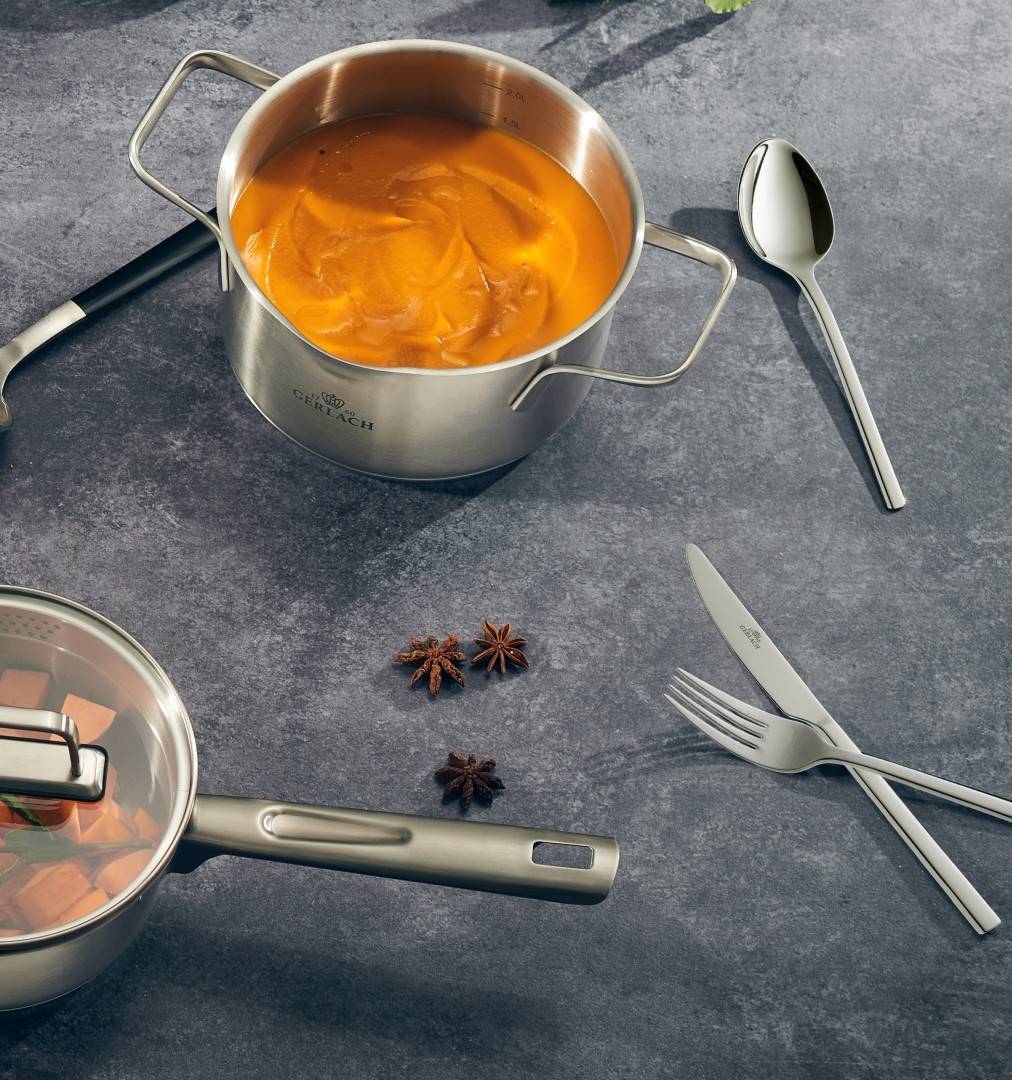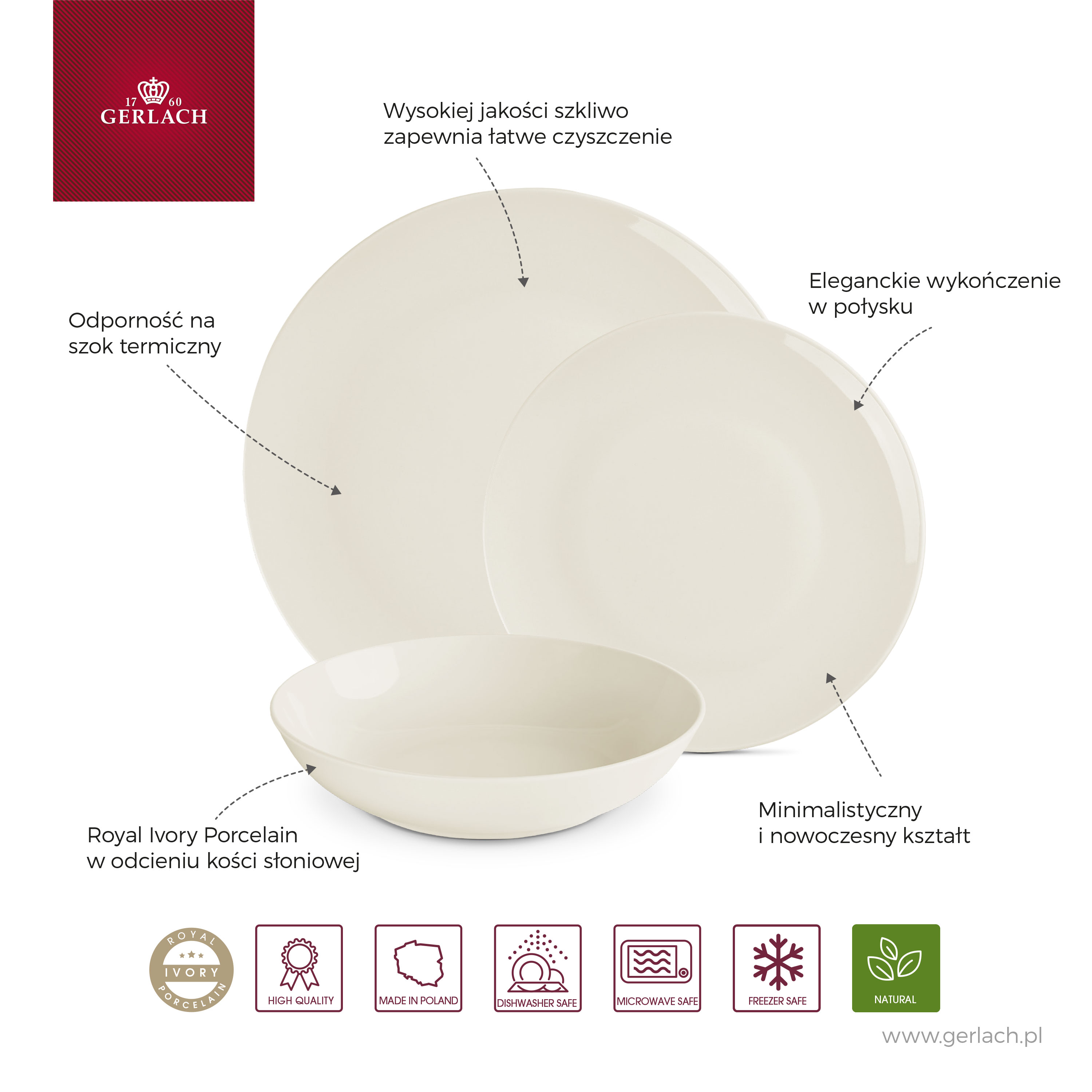 Dinner plate set FLOW 18 pcs./6 pcs.
The FLOW porcelain line was created for those setting up their first home and those looking for versatile, timeless products which delight with their versatility. Tableware in this line combines simple beauty with functionality and convenience. FLOW will go well with minimalist, modern interiors and those decorated in Scandinavian style. This porcelain can be combined with other collections.
Royal Ivory Porcelain is top quality porcelain in the colour ivory. It is made from carefully selected natural raw materials, which guarantee its unique colour. It is created in a factory in Jaworzyna Śląska with 160 years of tradition and undergoes strict quality control at every stage of production.
The FLOW dinner plate set is a versatile tableware that will make life in the kitchen and dining room easier every day. Comfortable to use, the dishes can be used to serve any meal and can also be used as platters, due to the lack of a clearly marked collar. The set includes dinner plates, dessert plates and deep plates.
The ivory-coloured porcelain is made from carefully selected, natural raw materials of the highest quality. It is durable and completely safe for health. The porcelain is glazed with a durable glaze and can therefore be washed in the dishwasher. It is suitable for the microwave. It is heat shock resistant, so it can be used in the oven up to 220°C and stored in the fridge and freezer down to -30°C. Please note, chilled porcelain should not be reheated in rapid succession.
Set composition:
205mm deep plate x 6pcs.
shallow plate 280mm x 6pcs.
shallow plate 220mm x 6pcs.
Cutlery set 24 pcs. TUNEA glossy
Tunea cutlery was designed for lovers of fashionable and modern design.
The simple form emphasised with a gloss finish will delight with its shine and enchant many a fan of home accessories and accessories.
The perfectly balanced cutlery has been created to ensure precise cutting, comfortable use and enjoyment of meals.
Thanks to the highest quality 18/10 stainless steel , Tunea cutlery is corrosion resistant and dishwasher safe.
Gerlach cutlery is subject to strict quality controls.
Cutlery set composition 24 el.
Dinner knife - 6 pieces
Dinner fork - 6 pieces
Dinner spoon - 6 pieces
Tea spoon - 6 pcs.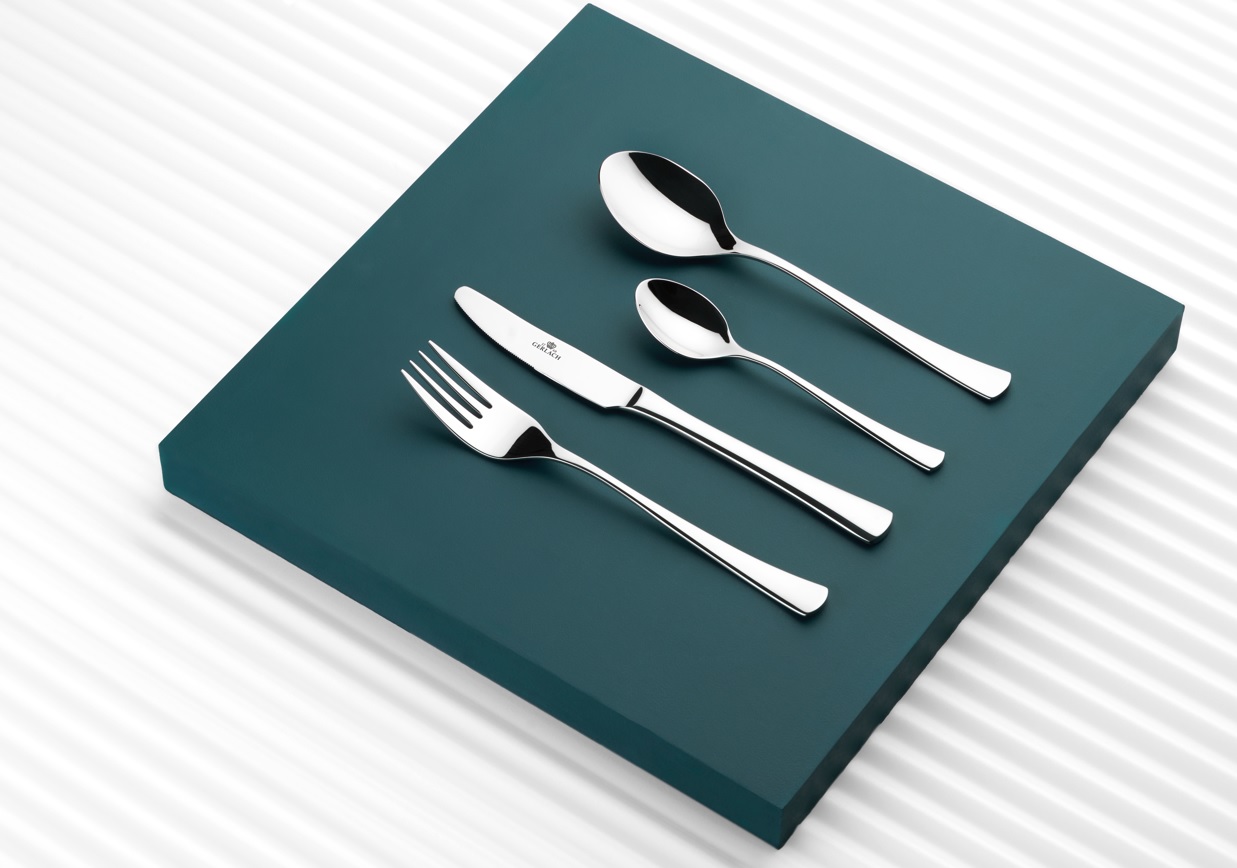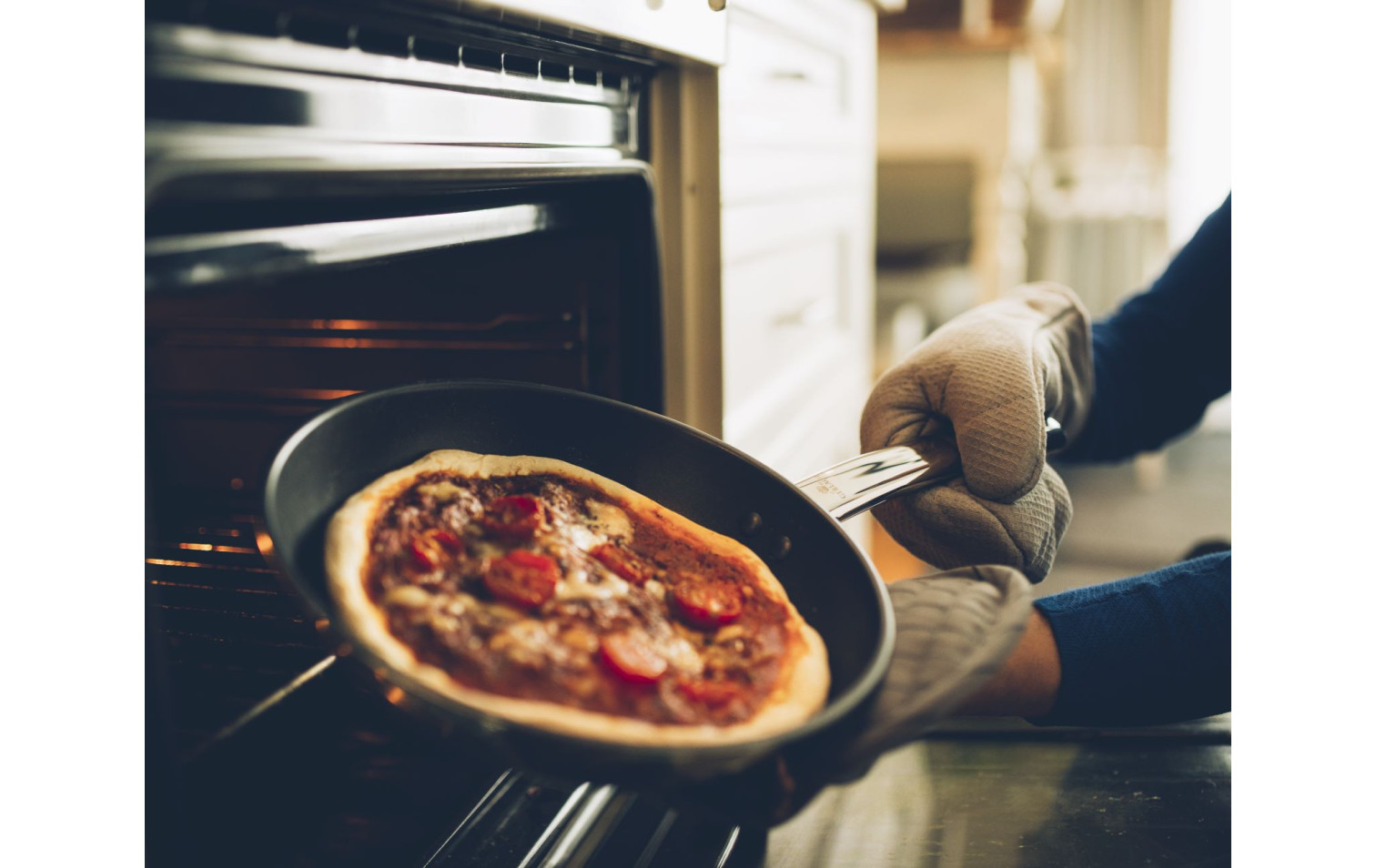 SOLID LITE 24/28 Induction frying pan set
The pans in the Solid Lite range have a two-layer non-stick coating, Ilag Xera Dur 2 ® Ceramic Non Stick. It has two layers: a top layer of Xerogel with a metallic effect and a base layer reinforced with Xerogel ceramic to prevent cracking. The cookware is resistant to very high temperatures, abrasion, scratching and deformation. It is made of tested materials that are safe for health. In addition, the extremely smooth and tight ILAG ceramic coating is easy to clean.
The thick steel bottom ensures even heat distribution, which contributes to cooking efficiency and allows for shorter and energy-efficient frying. Thanks to the integrated full induction aluminium disc (Full Induction Technology), the Solid frying pan perfectly exploits the potential of induction cookers, ensuring faster cooking. In addition, the product is also suitable for use on other types of cooker: gas, electric and ceramic, as well as in the oven.
The comfortable and ergonomic handle does not heat up and guarantees comfort when frying at high temperatures.
Set composition:
SOLID LITE 24 cm frying pan
SOLID LITE 28 cm frying pan
Customers who bought this product also bought:
No customer reviews for the moment.