CELESTIA set of dinner plates 18el. + Cutlery set 24 pcs. gloss CELESTIA/6pc.
We will send as soon as possible
Najniższa cena w ciągu ostatnich 30 dni: £0.00
Free shipping from 100 GBP!
CELESTIA set of dinner plates 18el. + CELESTIA/6person cutlery set 24 pcs.
The CELESTIA line is tradition in a modern way. The relief on the dishes makes them look extremely elegant. The porcelain looks great in a variety of interiors, making them cosy and stylish.
Royal Ivory Porcelain is top quality porcelain in the colour ivory. It is made from carefully selected natural raw materials, which guarantee its unique colour. It is created in a factory in Jaworzyna Śląska with 160 years of tradition and undergoes strict quality control at every stage of production.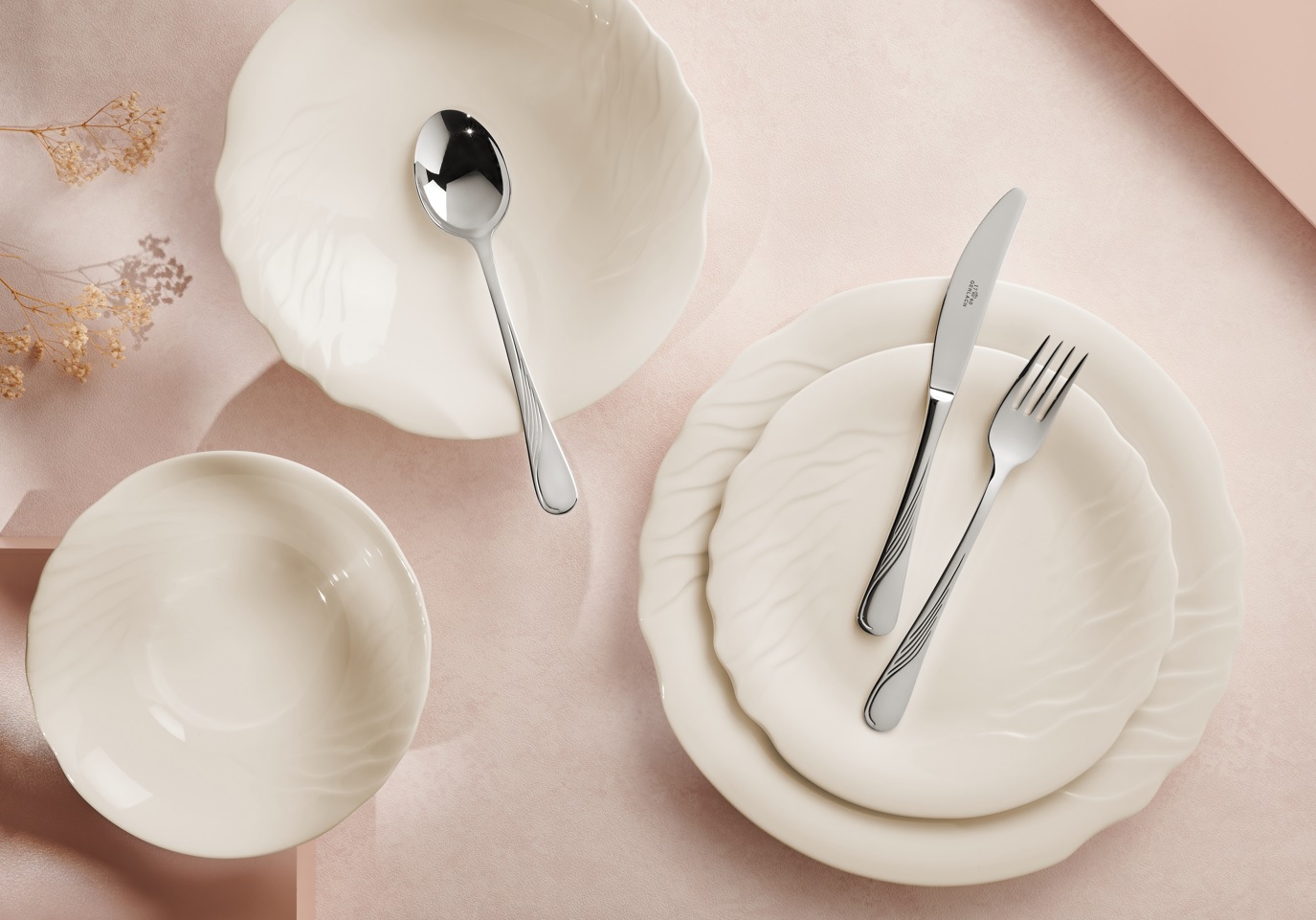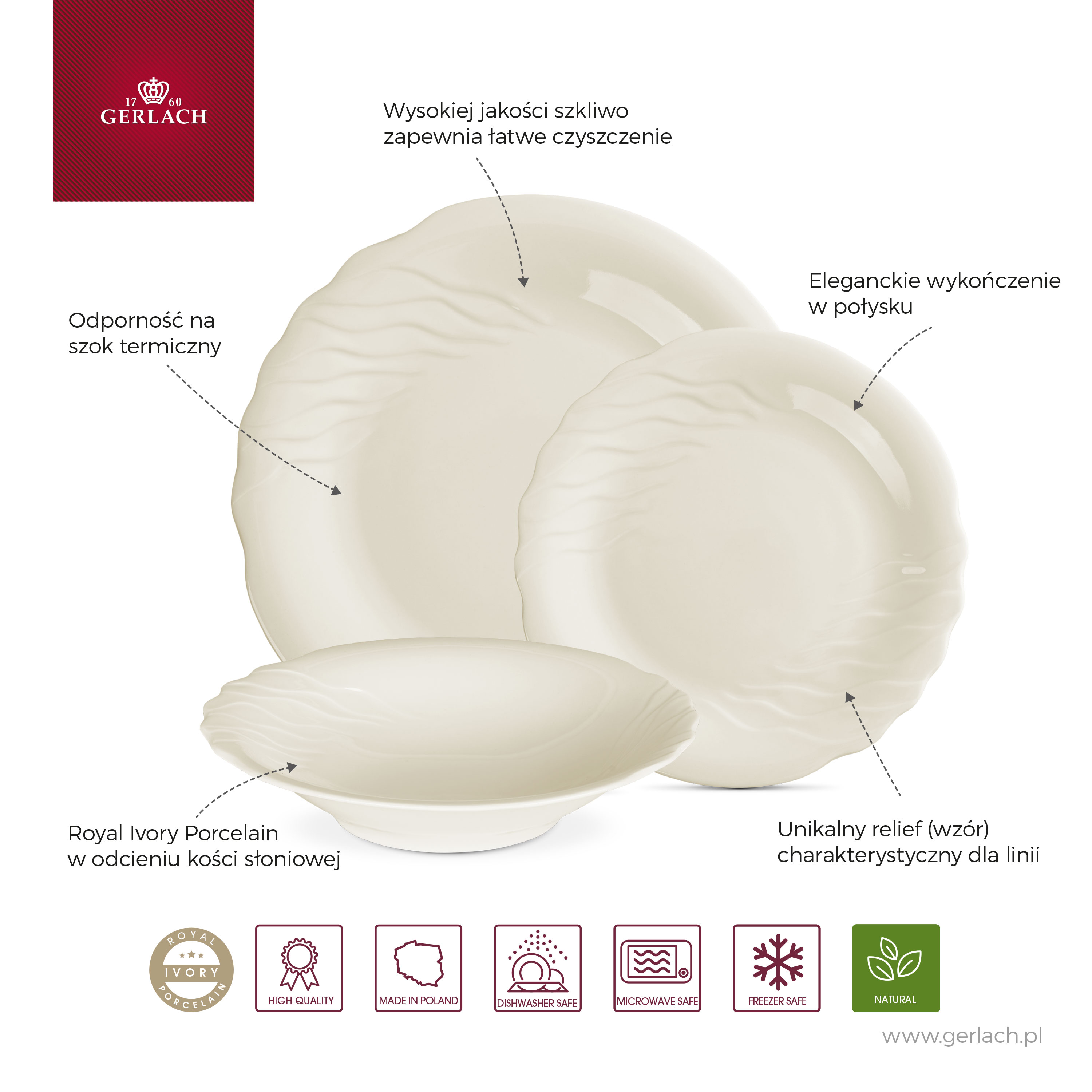 The CELESTIA dinner plate set is the ideal solution for those who want to emphasise the uniqueness of each meal. This set with unique decorative relief includes three types of plates: dinner plates , dessert plates and deep plates. Thus, using it, any meal can be served comfortably. The plates have a gently marked collar, which prevents liquids from spilling and at the same time emphasises the elegant look of the tableware.
The ivory-coloured porcelain is made from carefully selected, natural raw materials of the highest quality. It is durable and completely safe for your health. The porcelain is glazed with a durable glaze and can therefore be washed in the dishwasher. It is suitable for the microwave. It is heat shock resistant, so it can be used in the oven up to 220°C and stored in the fridge and freezer down to -30°C. Please note, chilled porcelain should not be reheated at a rapid rate.
The porcelain has been manufactured in Poland. It comes with a 2-year guarantee. Thanks to its elegant packaging, it is perfect for a gift, e.g. on the occasion of a wedding, a move to a new flat or to celebrate holidays.
Cutlery set 24el. CELESTIA glossy
Cutlery set 24 pcs. Celestia is traditional tableware that will accompany your tables on everyday and festive occasions. The classic design and shape has been broken with subtle decoration, which gives lightness and elegance to the spoons, forks and knives.
Set composition:
shallow plate 270mm x 6pcs.
deep plate 215mm x 6pcs.
shallow plate 210mm x 6pcs.
Dinner knife x 6pcs.
Dinner fork x 6pcs.
Dinner spoon x 6pcs.
Tea spoon x 6pcs.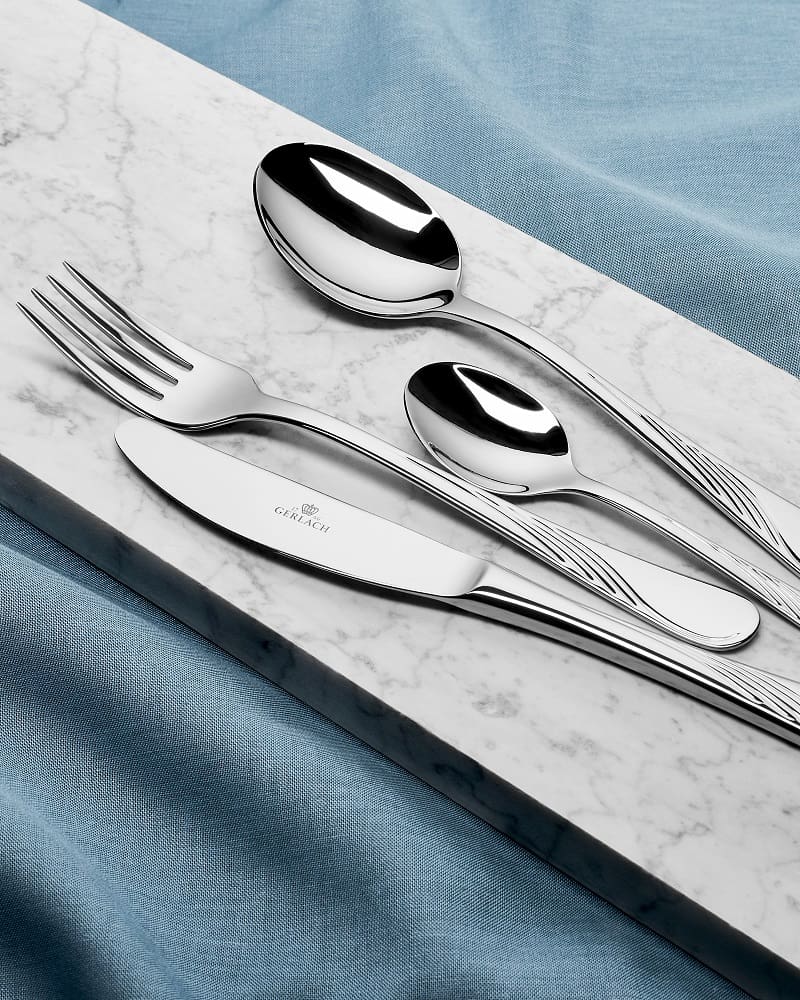 No customer reviews for the moment.