10-piece pot set AMBIENTE + Cutlery set 24 el. + 3x pans with detachable handle+ knife set in block
We will send as soon as possible
Najniższa cena w ciągu ostatnich 30 dni: £899.00
Free shipping from 100 GBP!
Gerlach 10-piece cookware set AMBIENTE Induction
The Ambiente pot set is a unique proposal for people who value aesthetics and functionality of products. It is distinguished by its modern design, durability and solidity. The pots with a thick three-layer bottom, made of 18/10 stainless steel, have a special straining function, thanks to which they will become an indispensable solution in the kitchen and will delight every cooking enthusiast.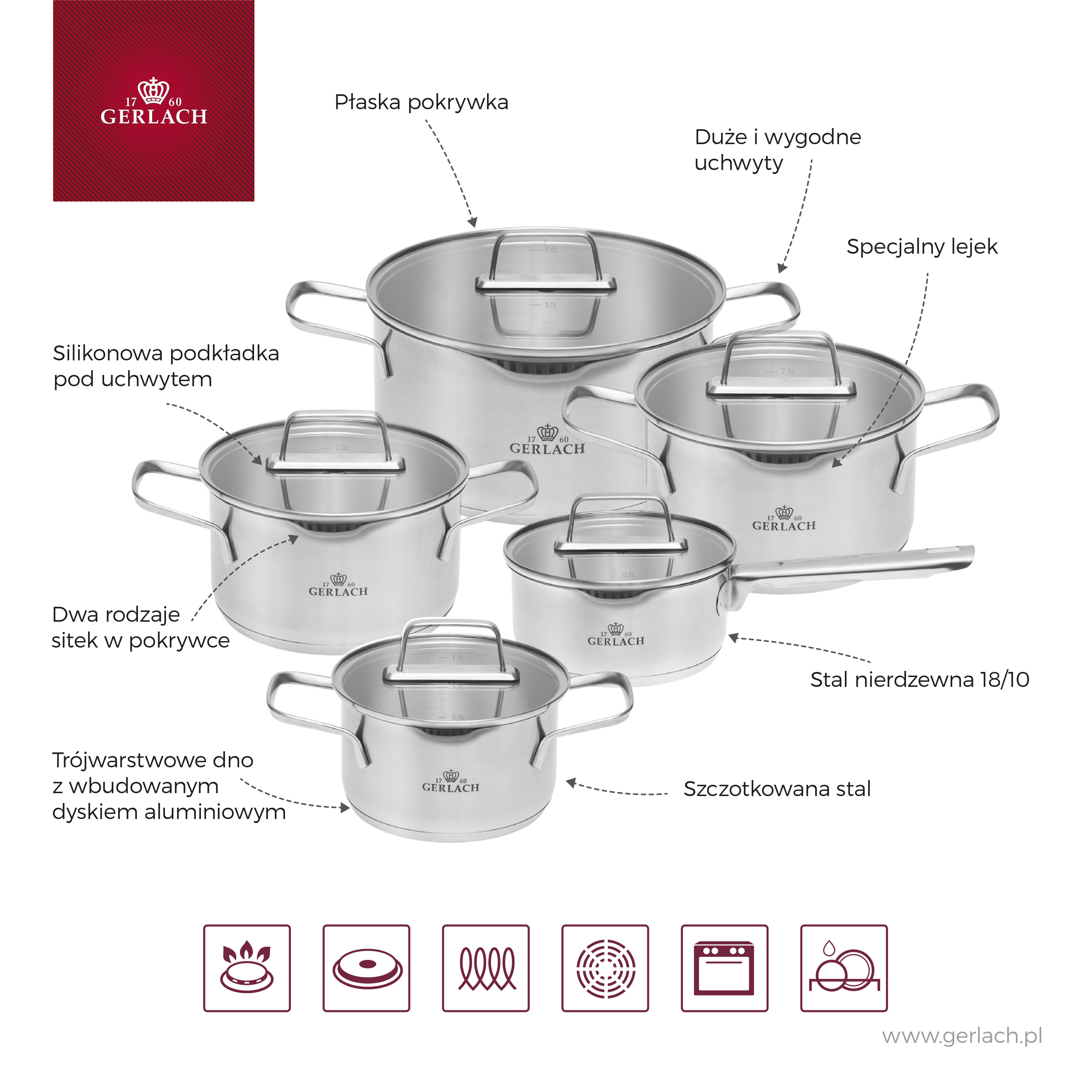 10-piece pot set AMBIENTE - functionality and modern design
The Ambiente pots are made of top-quality 18/10 stainless steel, thanks to which the cookware is extremely resistant to damage, corrosion, heat and is dishwasher-safe.
The three-layer bottom with integrated aluminium disk ensures even heat distribution combined with heat storage. Thanks to this feature, cooking is shorter and becomes more energy-efficient. In addition, it allows the cookware to be used on all types of cookers: electric, gas, ceramic and induction. The cookware is also suitable for use in the oven up to 180°C. Please note that temperatures above 180°C may cause discolouration of the cookware.
The matching tempered glasslids sit perfectly on the rim of the pot, ensuring that it is hermetically sealed, the food inside is evenly heated and no nutrient water escapes. The lids are equipped with a special vent that vents excess steam to the outside of the pot.
Ambiente pot set
The large and comfortable handles are designed to guarantee the greatest possible comfort when stirring food and carrying a heavy pot or hot lid. There is a silicone pad under the lid handle to prevent excessive heat.
An internal measuring cup in the pots allows you to accurately measure the ingredients you are adding, and a special funnel will help you pour liquids. The series is equipped with an innovative straining function - it has two types of strainers in the lid.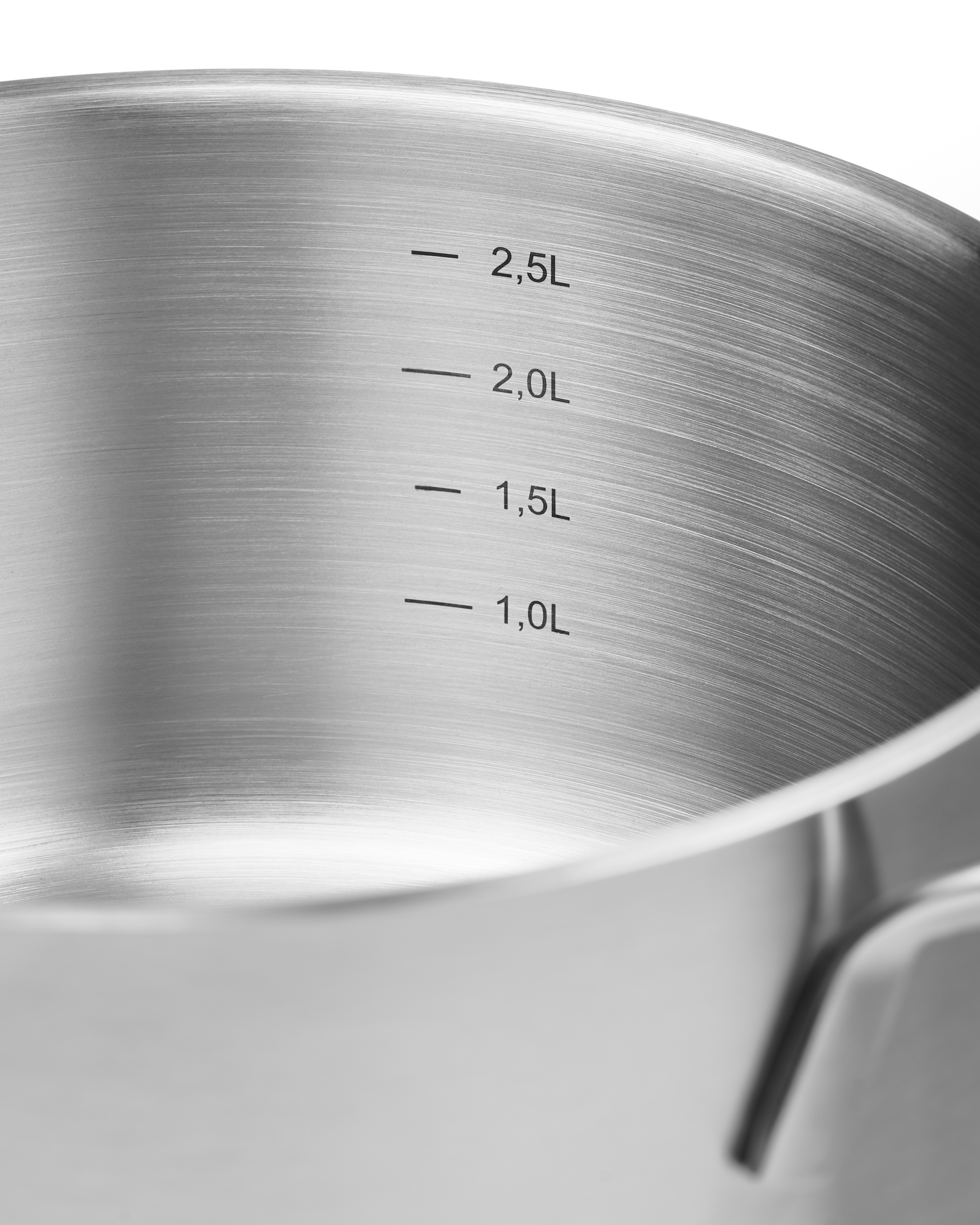 Gerlach Ambiente Cutlery Set 24 pieces glossy
Ambiente cutlery is ideal for those who appreciate not only modernity but also comfort of use. Their beautiful sheen will certainly adorn the table of every family, which will look fresh and clean during every meal. It will also add elegance to it, so that everyone who sits at it can feel special.
The set will be ideal for all kinds of dishes, from the simplest to the most exquisite. This will be ensured by its ergonomic shape, which ensures safety when eating. It will be a great element of various tableware and will emphasise the colour of the plates. So, as you can see, it is suitable for every kitchen and dining room if you want them to look beautiful. With it, every meal will be special.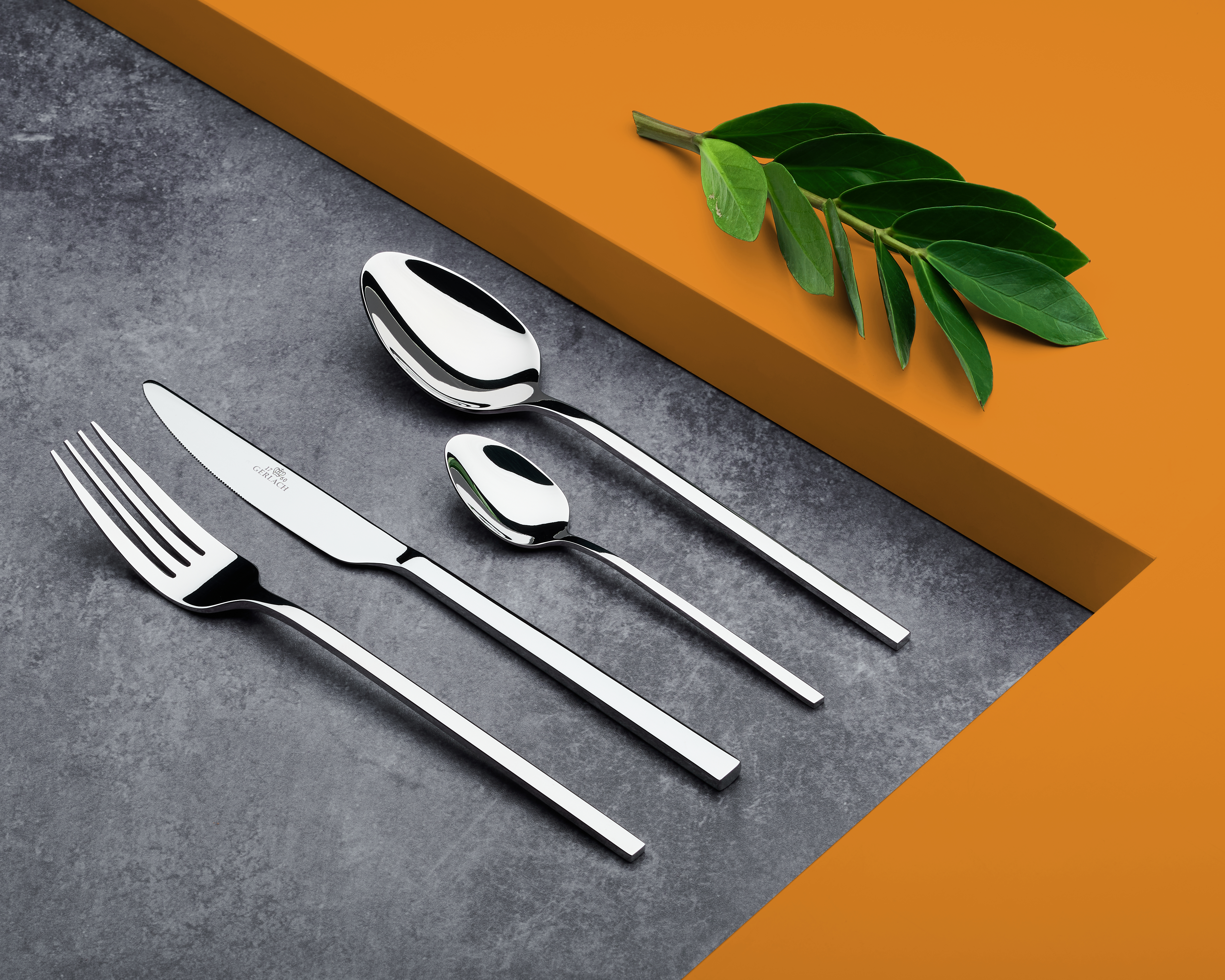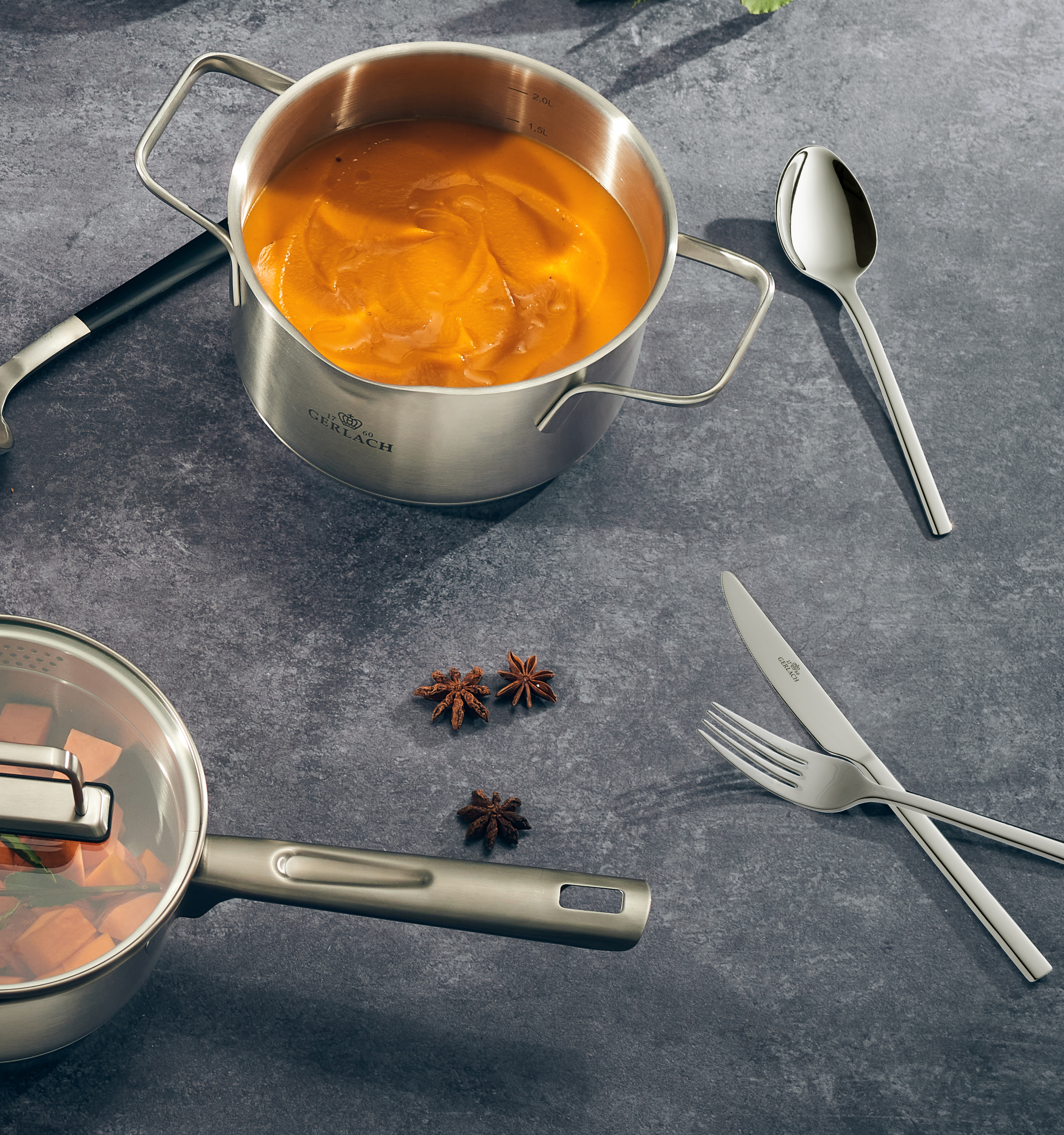 Modern cutlery style
Taking care of the safety of you, your family and your friends, we have made the cutlery to the highest standards. They are extremely easy to clean and care for, and spoons, forks, spoons and knives will retain their perfect appearance for years to come. They are manufactured from high quality stainless steel, which helps to maintain hygiene.
Gerlach set of knives in Deco Black block
The 991A line of kitchen knives is dedicated to fans of modern design who appreciate high quality of the purchased products. Characteristic elements of the Deco Black series are special symbols, which suggest the use of a particular knife. This makes the choice extremely easy and quick. The Deco Black knives are perfect whether you need to cut meat, bread, vegetables or fruit. The perfect sharpness will ensure precision and ease of use.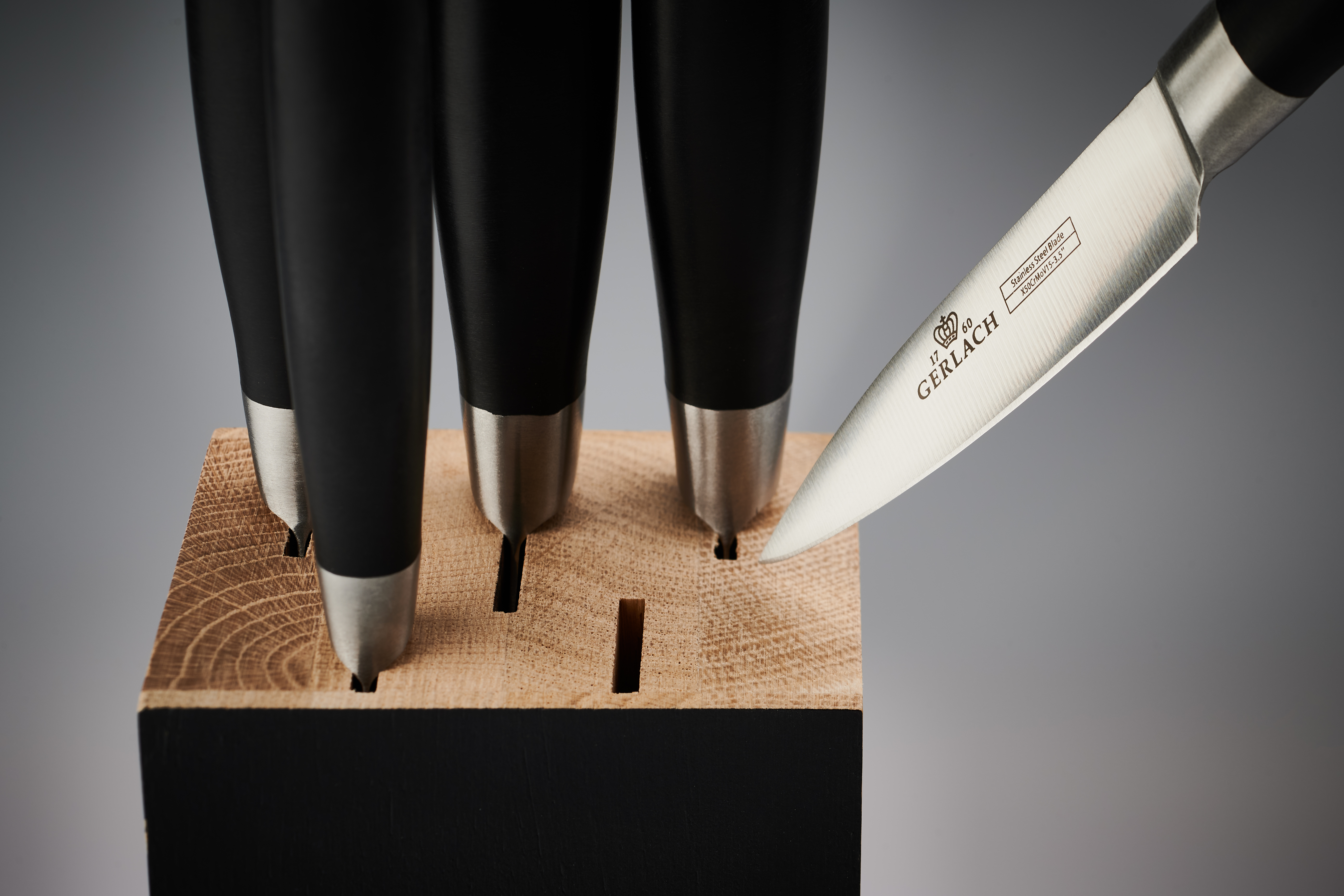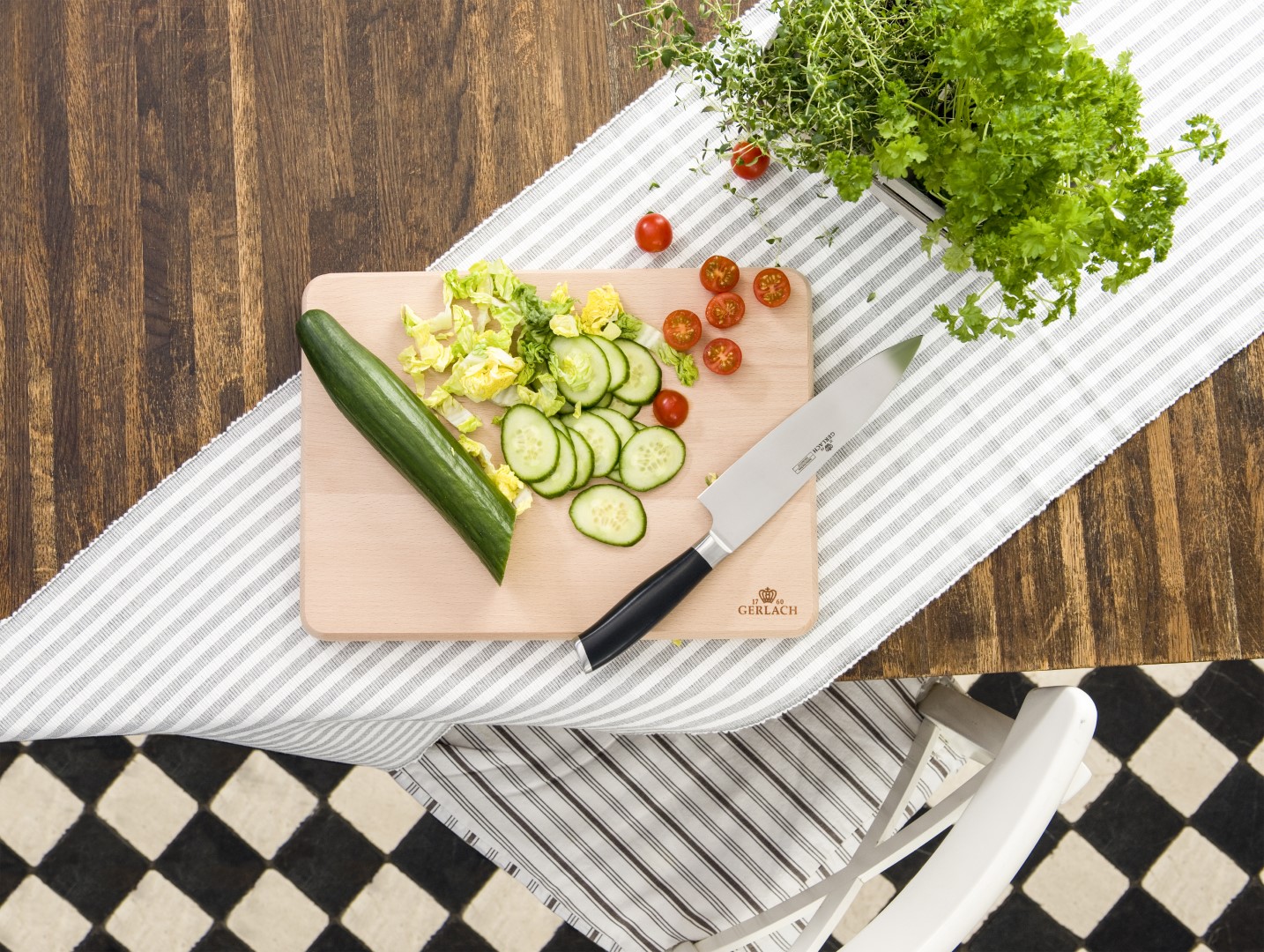 Set of knives in block DECO BLACK - perfect sharpness and precision.
The 991A Deco Black line are knives made from the highest quality X50CrMoV15 stainless steel with the addition of chromium (increases corrosion resistance), molybdenum (reduces the brittleness of the steel) and vanadium (increases wear resistance).
The hardness of the Deco Black knife blade on the Rockwell scale is 53-55 HRC. The Rockwell scale indicates the ability to retain sharpness for a given period of time and tests the resistance to mechanical damage and overloading of the blade. Hard knives retain their sharpness for long periods of time, while being more difficult to sharpen, less flexible and more prone to breakage and chipping. Each knife should be rigid in order to cut the various ingredients precisely, while on the other hand it must be flexible enough not to break when changing the angle of cutting or applying a lot of pressure. In most cases, the hardness for kitchen knives is quoted from 52 degrees HRC, while 57-58 HRC indicates already hard steel. The hardness of the blades of Gerlach kitchen knives has been adjusted to ensure extremely precise and sharp cutting, while minimising the likelihood of the blade breaking during intensive use.
An ergonomic, non-slip handle made of durable ABS plastic has been incorporated into the model.
All knives in the Deco Black range have auxiliary symbols on the handle to indicate the function of a particular tool.
DECO elegant kitchen design
The set is available with a beech wood block. It will fit in perfectly with the décor of any kitchen.
In order to enjoy the reliability and stylish appearance of Gerlach kitchen knives for as long as possible, we recommend washing them by hand.
Washing the knives in the dishwasher, due to the high temperature of the water and chemicals, can lead to permanent damage to the blades and handles of the knives.
There are five knives in the line with different functions depending on the finish and size. They will prove excellent for slicing tomatoes, shredding salad or cutting up meat.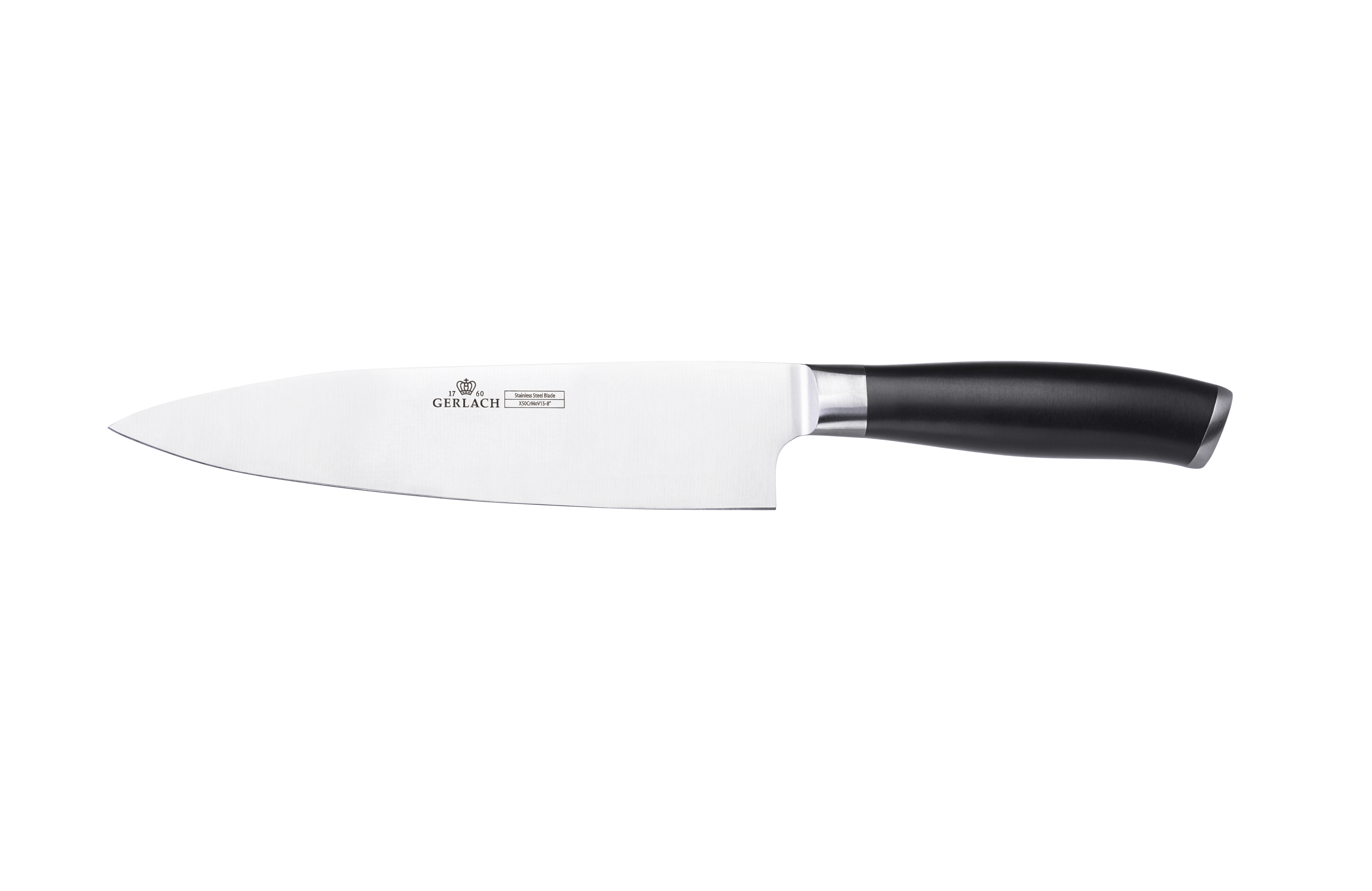 GERLACH 20/24/28cm SMART induction frying pan set
SMART frying pan set
The SMART line consists of universal, health-safe pots and pans that are perfect for small kitchens and kitchenettes. The use of a detachable handle saves space in the dishwasher and the stackable option saves up to 50 % of cabinet space. SMART cookware is suitable for cooking, frying, baking, serving dishes and even food storage.
SMART ceramic-coated pans
SMART pans have one of the best ceramic coatings currently available on the market, Ilag Xera Dur 2 ® Ceramic Non Stick. It has two layers: a top layer of Xerogel with a metallic effect and a base layer reinforced with Xerogel ceramic to prevent cracking. In addition to its excellent resistance to abrasion, the coating has special properties that prevent food from sticking to the surface and burning.
The thick, four-layer bottom with stainless steel disk conducts heat perfectly and evenly, making cooking simple and fast.
Out of concern for the health of users, the pans are free of hazardous substances (PTFE, PFOA, cadmium, lead), being extremely friendly cookware. In addition, the extremely smooth and sealed ILAG ceramic coating is easy to clean.
Set composition
Composition of the Ambiente cookware set:
Ambiente Saucepan with lid 16cm - 1.0l
Ambiente Pot with lid 16cm - 1.5l
Ambiente Pot with lid 18cm - 2.0l
Ambiente Pot with lid 20cm - 2,5l
Ambiente Pot with lid 24cm - 5,0l
Deco Black block knife set:
Deco Black Chef's Knife 8" (20cm) - an essential tool in the kitchen, ideal for chopping many ingredients.
Deco Black Bread Knife 8" (20 cm) - distinguished by its distinctive serrations, which make it easy to cut bread.
Deco Black All-purpose kitchen knife 8" (20 cm) - a versatile tool, best suited to cutting meat or cold cuts.
Deco Black Multi-purpose kitchen knife 5" (12, 5 cm) - small slicing knife.
Deco Black 4" (10 cm) vegetable knife - can be used as a vegetable peeler.
Ambiente cutlery set:
Dinner knife - 6 pcs.
Dinner fork - 6 pcs.
Dinner spoon - 6 pcs.
Tea spoon - 6 pcs.
Smart frying pan set:
Smart frying pan 20 cm
Smart frying pan 24 cm
Smart frying pan 28 cm
Smart universal pot handle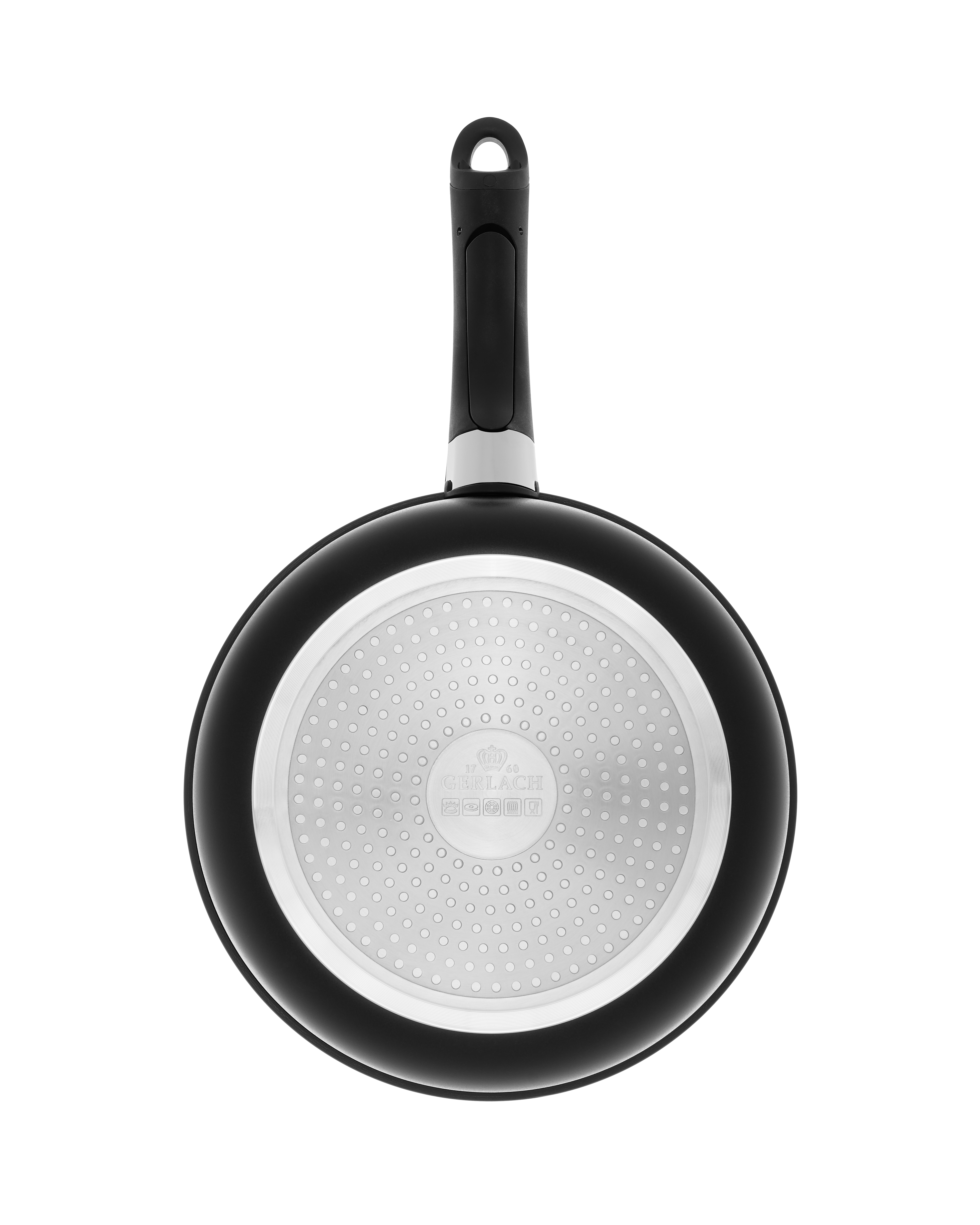 Customers who bought this product also bought:
No customer reviews for the moment.