10-piece pot set AMBIENTE + 10 l. pot. Simple
We will send as soon as possible
Najniższa cena w ciągu ostatnich 30 dni: £529.00
Free shipping from 100 GBP!
Gerlach 10-piece cookware set AMBIENTE Induction
The Ambiente pot set is a unique proposal for people who value aesthetics and functionality of products. It is distinguished by its modern design, durability and solidity. The pots with a thick three-layer bottom, made of 18/10 stainless steel, have a special straining function, thanks to which they will become an indispensable solution in the kitchen and will delight every cooking enthusiast.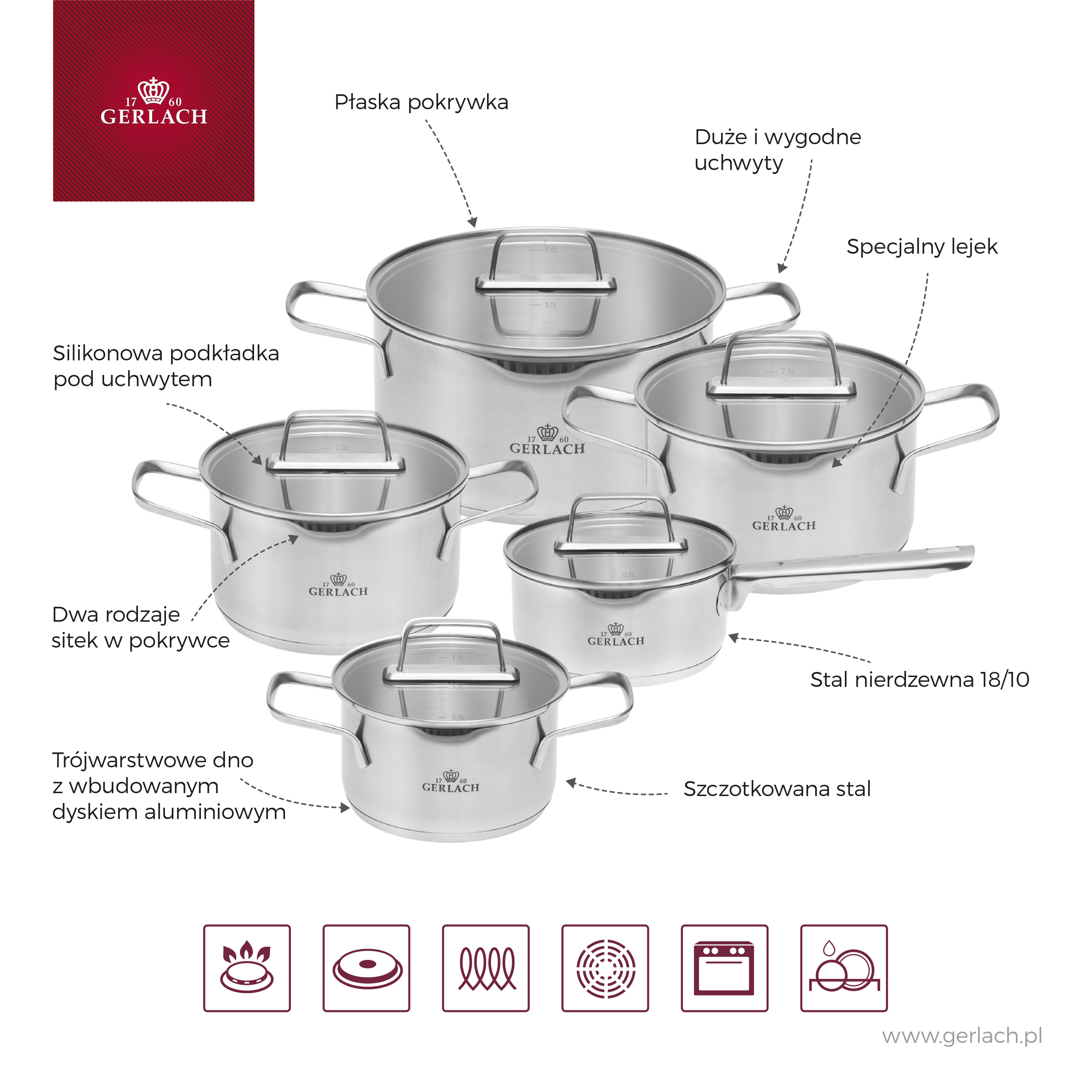 10-piece pot set AMBIENTE - functionality and modern design
The Ambiente pots are made of top-quality 18/10 stainless steel, thanks to which the cookware is extremely resistant to damage, corrosion, heat and is dishwasher-safe.
The three-layer bottom with integrated aluminium disk ensures even heat distribution combined with heat storage. Thanks to this feature, cooking is shorter and becomes more energy-efficient. In addition, it allows the cookware to be used on all types of cookers: electric, gas, ceramic and induction. The cookware is also suitable for use in the oven up to 180°C. Please note that temperatures above 180°C may cause discolouration of the cookware.
The matching tempered glasslids sit perfectly on the rim of the pot, ensuring that it is hermetically sealed, the food inside is evenly heated and no nutrient water escapes. The lids are equipped with a special vent that vents excess steam to the outside of the pot.
Ambiente pot set
The large and comfortable handles are designed to guarantee the greatest possible comfort when stirring food and carrying a heavy pot or hot lid. There is a silicone pad under the lid handle to prevent overheating.
An internal measuring cup in the pots allows you to accurately measure the ingredients you are adding, and a special funnel will help you pour liquids. The series is equipped with an innovative straining function - it has two types of strainers in the lid.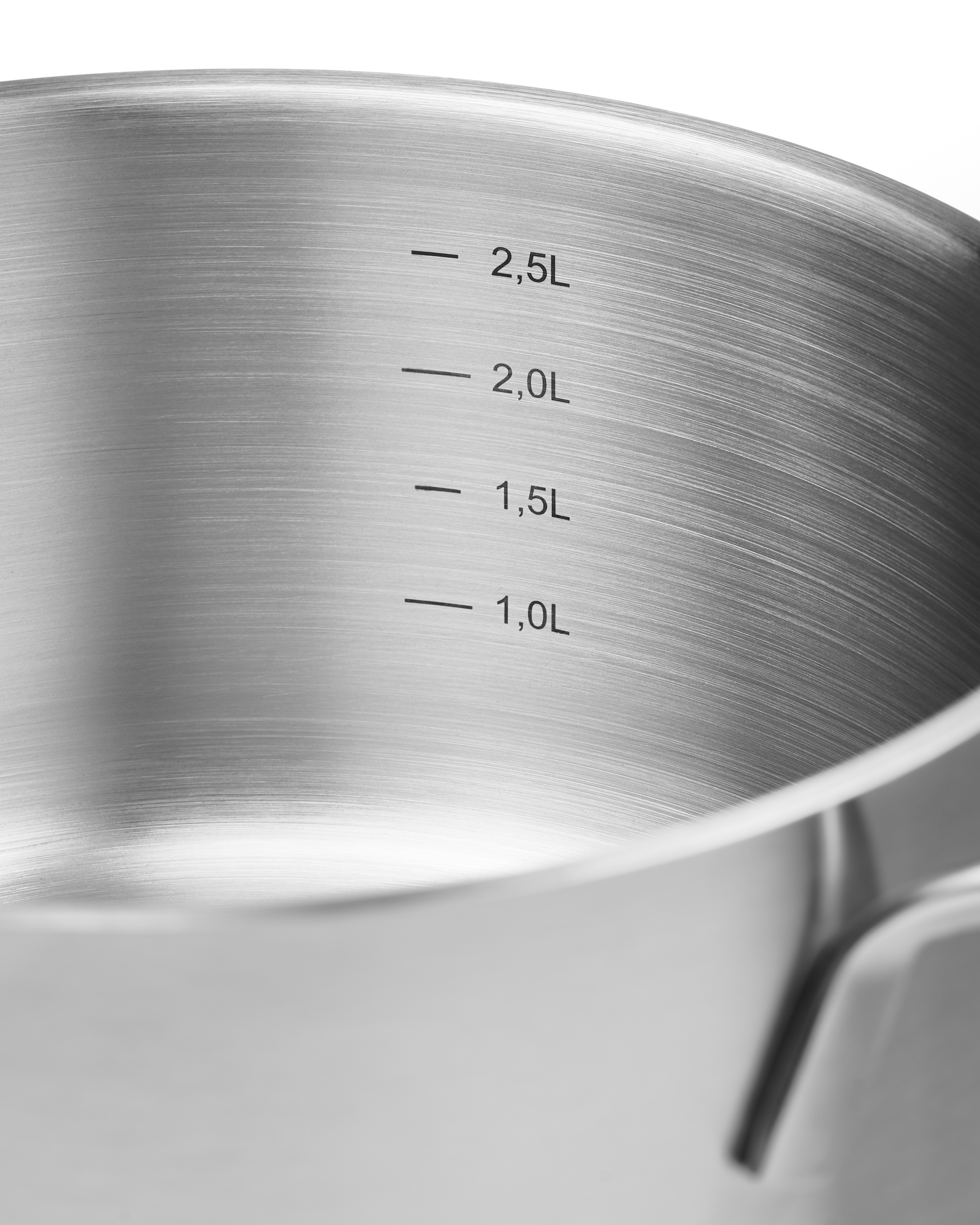 10l. SIMPLE with extra-large capacity
The Simple line is a unique combination of aesthetically pleasing pots with excellent functionality. Thanks to their suitable sizes and capacities and practical extras, the Simple pots will prove to be an extraordinary help during everyday meal preparation work. The Simple 10l pot is an excellent choice for those who cook meals for many people.
The pot will easily prepare homemade soups or cook pasta for the whole family, and organising a large dinner for several guests will never be stressful again. The Simple series of dishes will also become a tasteful part of kitchen interior decoration. The simple, modern form will perfectly fit into both traditional and minimalist kitchens.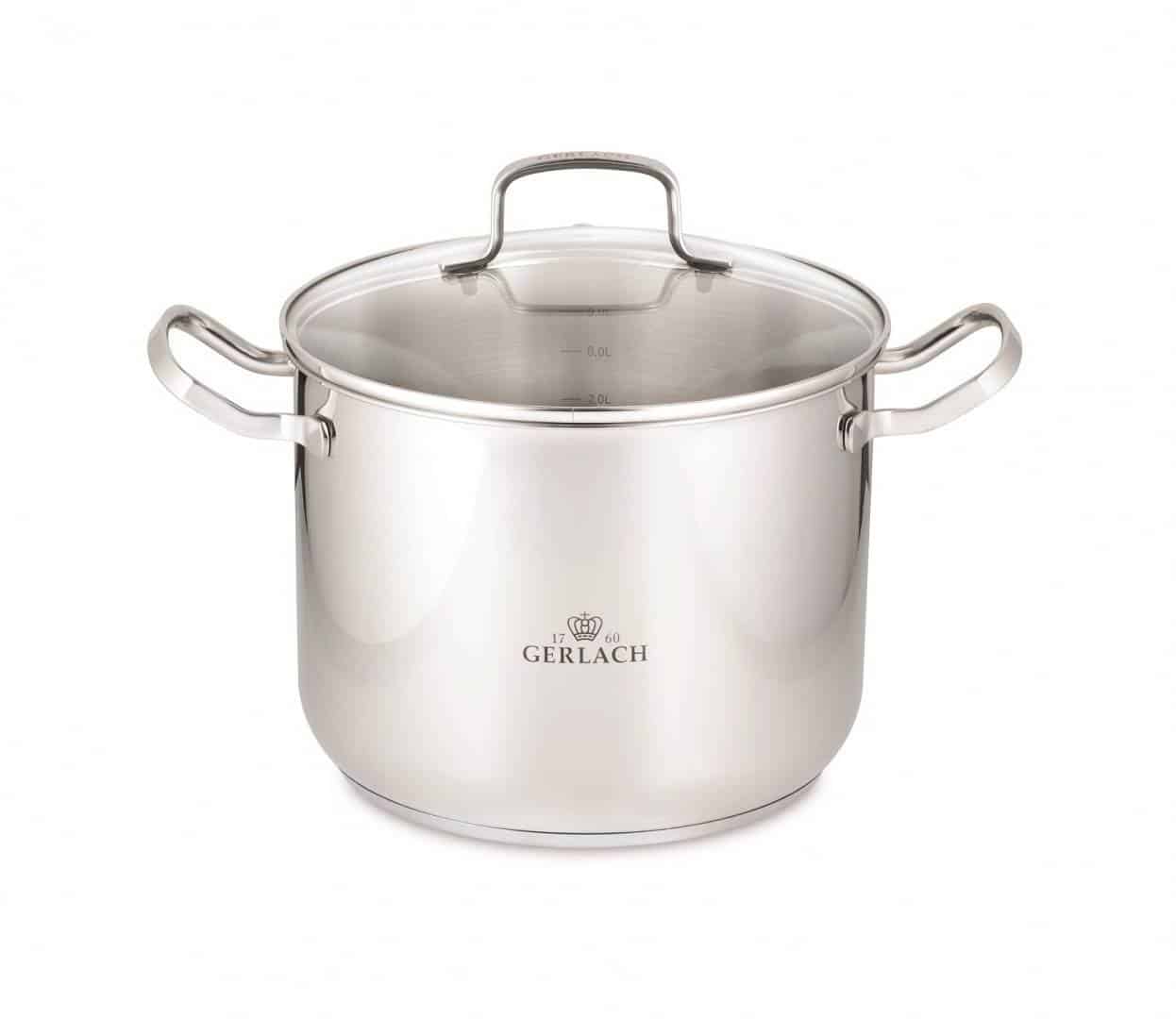 The Simple pot is made of 18/10 stainless steel, which increases resistance to corrosion, heat, damage, and allows the pot to be cleaned in the dishwasher as well as used in the oven (Caution! Temperatures above 180°C may cause discolouration).
The product is characterised by a perfectly flat inner surface that is rivet-free. The thick, three-layer bottom with an integrated aluminium disk with a uniform surface allows for an even distribution of heat, thus reducing cooking time and saving energy. The special bottom also makes it possible to use the cookware on all heat sources, including induction cookers.
The Simple cookware is equipped with a matching tempered glass lid, which is resistant to high temperatures. In addition, it seals the pot tightly, preventing precious nutrients and water from leaking out.</ p>
The lid also has a special vent that reduces excess steam in the pot. The perfectly shaped rim of the pot allows liquids to be poured over so that the contents do not run down the outside of the pot, thus keeping the worktop or hob clean.
Thelarge and comfortable steelhandles make it easy to carry and handle the heavy pot. The pot has an internal measuring cup, which makes it easy to measure added ingredients.
Package composition:
Ambiente Saucepan with lid 16cm - 1.0l
Ambiente Pot with lid 16cm - 1.5l
Ambiente Pot with lid 18cm - 2.0l
Ambiente Pot with lid 20cm - 2,5l
Ambiente Pot with lid 24cm - 5,0l
Simple Pot with lid 28cm - 10.0l, H - 17cm
| | |
| --- | --- |
| model name | Ambiente |
| Style | loft |
| Style | modern |
Customers who bought this product also bought:
No customer reviews for the moment.