Gerlach Superior 6-piece pot set
We will send as soon as possible
Najniższa cena w ciągu ostatnich 30 dni: £659.00
Free shipping from 100 GBP!
Gerlach Superior 6-piece pot set
The Superior pot set is a unique and innovative product. It is distinguished by its sophisticated style and high functionality that will delight any cooking enthusiast. The pots with a thick three-layer bottom, made of 18/10 stainless steel have a special straining function that will make them an indispensable solution in the kitchen. The Superior line stands for robustness, unique minimalist design and the joy of cooking.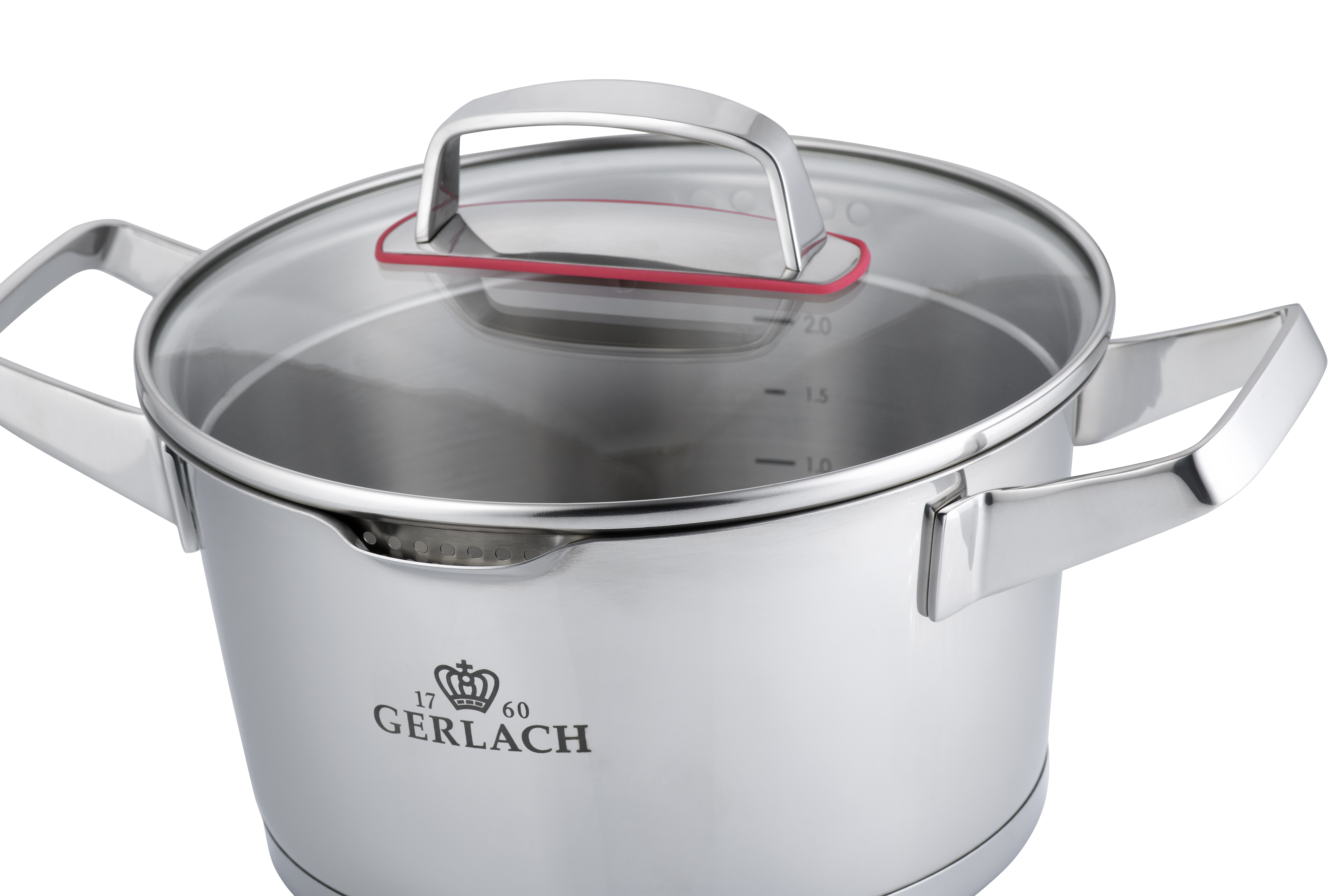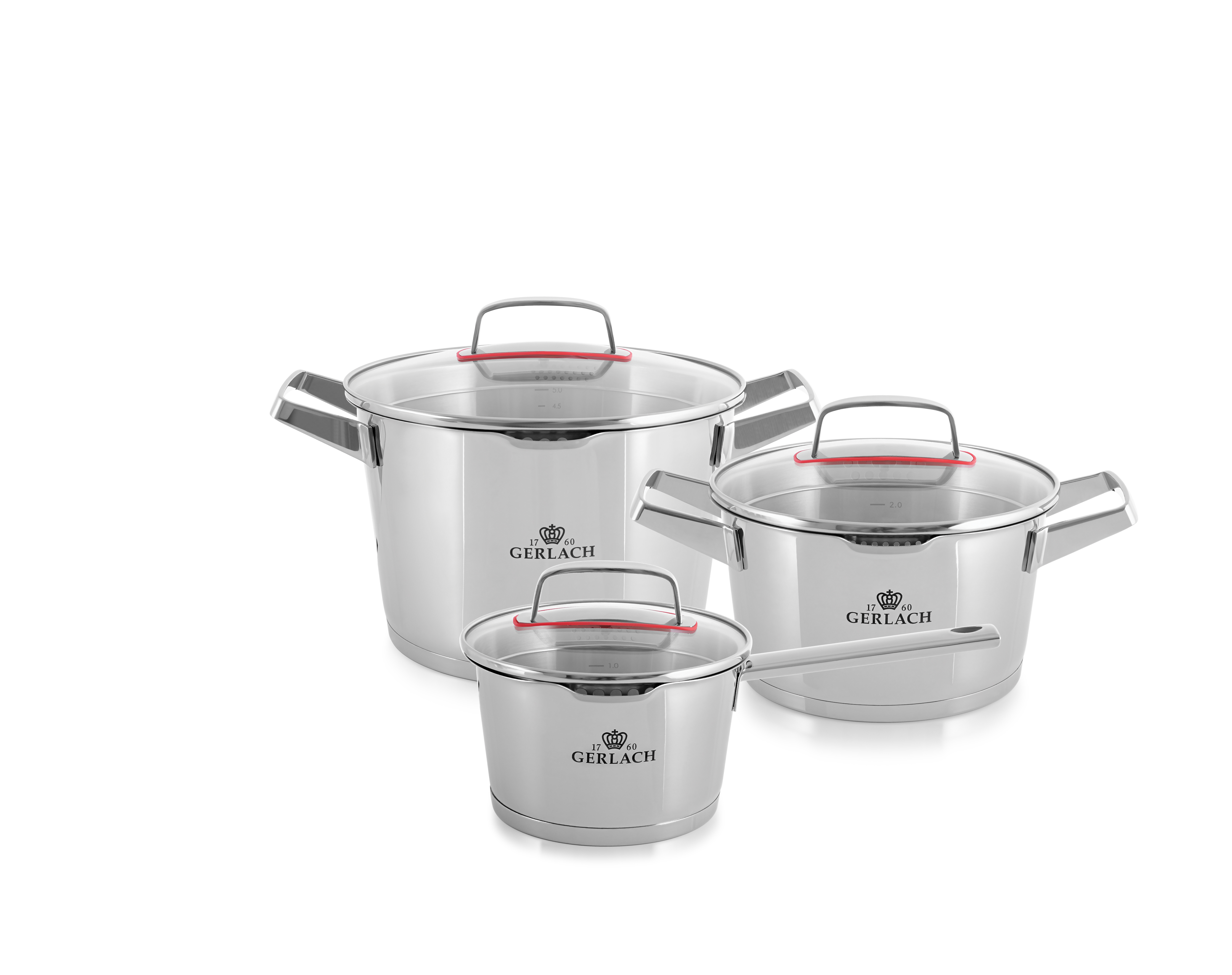 Discover the unique and innovative 6 el. SUPERIOR
The cookware is made of 18/10 stainless steel, which makes the pots heat-resistant, scratch-resistant, and dishwasher-safe.
The triple-layer bottom with integrated aluminium disk allows for excellent heat distribution and storage. In addition, it allows the cookware to be used on all types of cookers: electric, gas, ceramic and induction. The pots are also suitable for use in the oven at temperatures up to 200°C, while the lids are suitable for use up to 180°C. ATTENTION: temperatures above 180°C may cause discolouration of the cookware.
Lids made of tempered glass ensure a perfect fit to the rim of the pot. Heat and water with nutrients are retained inside the pot. Vents in the lid regulate the level of steam, which improves the quality of cooking.
Large and comfortable handles have been created to guarantee the greatest possible comfort when stirring food and carrying a heavy pot or hot lid. There is a silicone pad under the lid handle to prevent excessive heat.
Set of SUPERIOR pots
Inner measuring cup in the pots allows you to accurately measure the ingredients you are adding, and a special funnel will help with pouring liquids. The range is equipped with an innovative straining function - it hastwo types of strainers in the lid. The Superior range is subject to strict quality controls and is approved by the National Institute of Hygiene.
Set composition:
bottle with lid Ø 16 cm - 1.5l,
gar with lid Ø 20 cm - 2.5l,
gar with lid Ø 24 cm - 4.0l.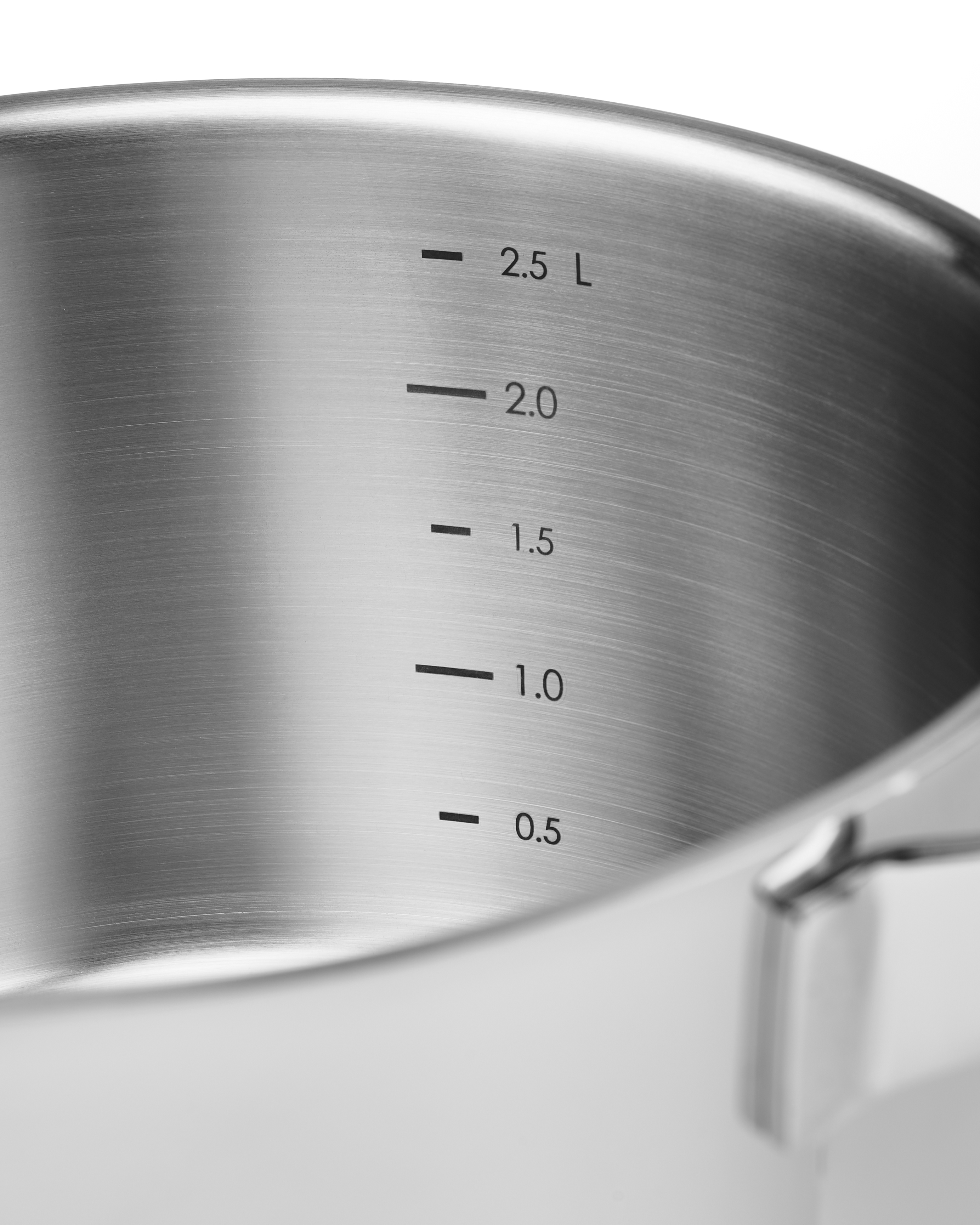 | | |
| --- | --- |
| Stan | Nowy |
| EAN | 5901035504363 |
| Kod producenta | Superior 6el. |
| Marka | Gerlach |
| model name | Superior |
| Colour | srebrny |
| Materiał | stal nierdzewna |
| Informacje dodatkowe | możliwość mycia w zmywarce|możliwość używania na kuchni indukcyjnej|możliwość używania w piekarniku|nienagrzewające się uchwyty|pokrywka w zestawie |
| Style | modern |
Customers who bought this product also bought:
No customer reviews for the moment.