Gerlach First 10-piece pot set
We will send as soon as possible
Najniższa cena w ciągu ostatnich 30 dni: £299.01
Free shipping from 100 GBP!
Gerlach First 10-piece cookware set
To create delicious dishes you need a set that's functional and reliable - whether you're preparing a quick hot dinner or a lavish dinner for several guests that requires a lot of preparation.
In the First set, you will find pots with the right capacity to help you cook soup, reheat a portion for one person, make a flavoursome sauce or a juicy, braised roast. What's more, the items in the set have been made from 18/10 stainless steel, which means that they will prove to be a robust and durable product that will not be intimidated by corrosion or scratches.
The First set is made of 18/10 stainless steel, which increases resistance to corrosion, heat, damage, and allows the dishes to be cleaned in the dishwasher and used in the oven up to 180°C.
Each piece in the set is characterised by a perfectly flat inner surface that is rivet-free. This makes daily cleaning of the cookware easier and more efficient.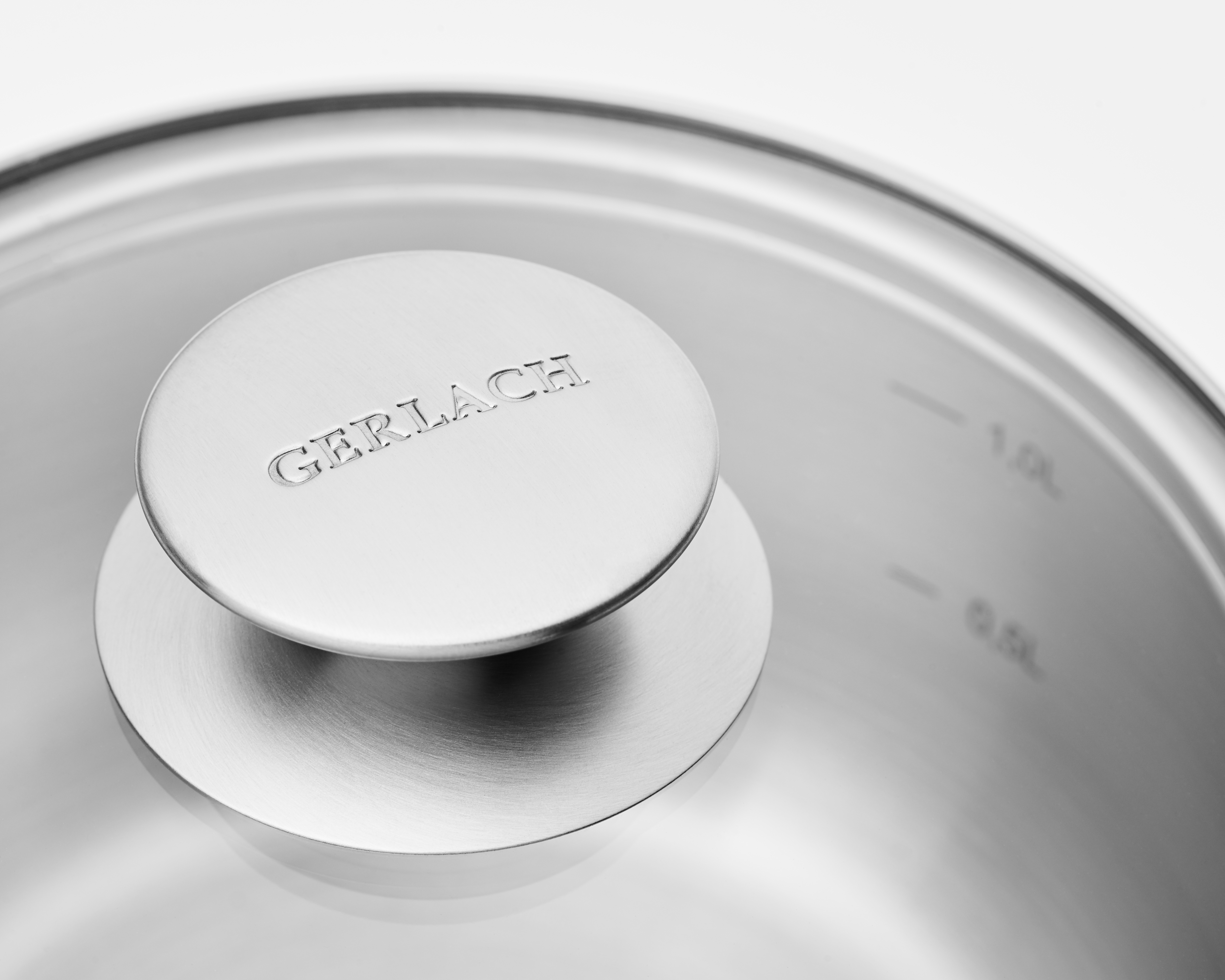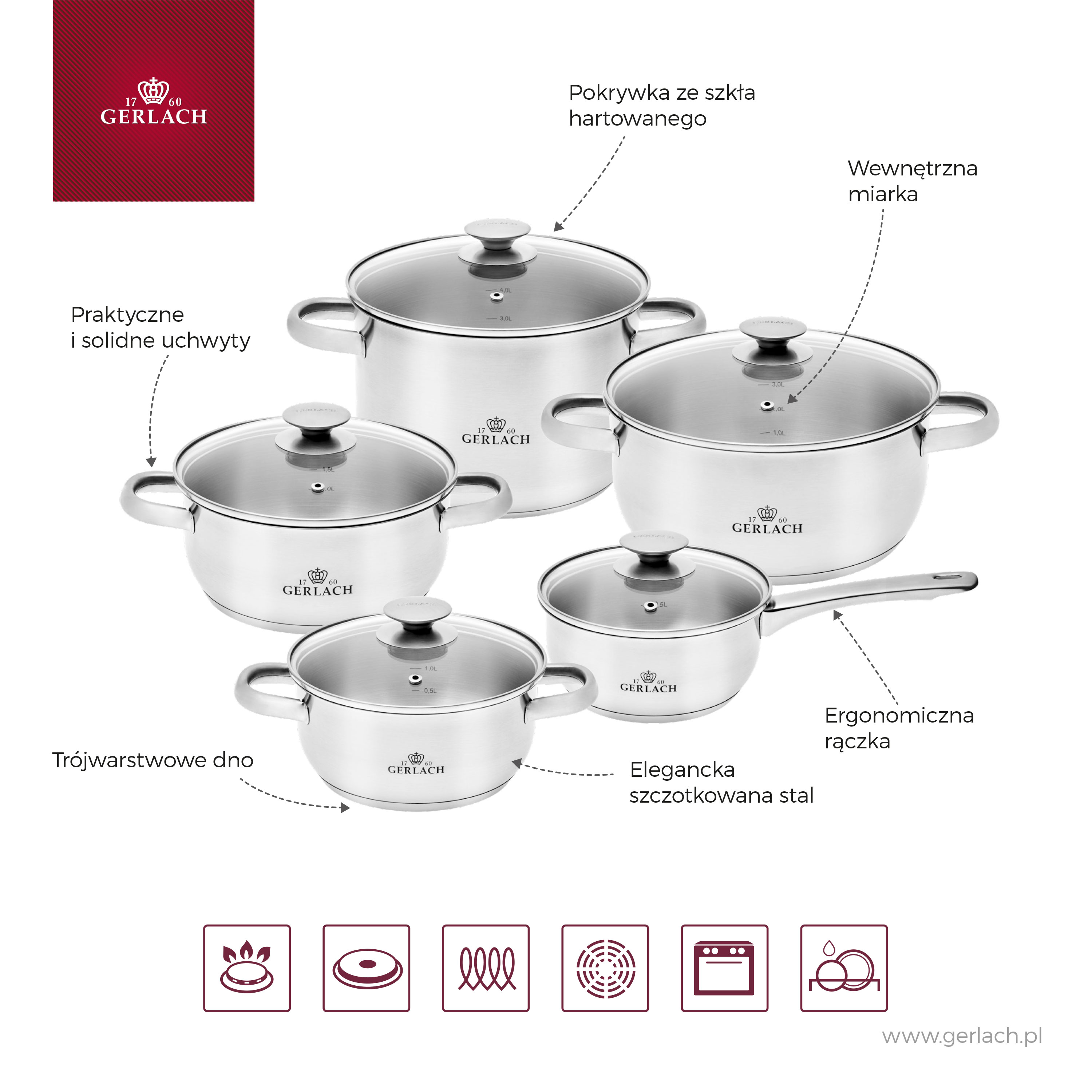 FIRST cookware - cooking with ease and pleasure
The cookware from the First range is equipped with matching tempered glass lids, which are distinguished by their resistance to high temperatures. In addition, they seal tightly, preventing precious nutrients and water from leaking out. The lids also have a vent that reduces excess steam in the pot.
The large, comfortable and non-warming steel handles ensure that even a heavy pot can be comfortably carried and handled.
The pots have an internal measuring cup that makes it easy to measure the ingredients to be added.
The First cookware is distinguished by its appearance due to the brushed steel, which gives it character and elegance.
The cookware set
The thick, three-layer bottom with an integrated aluminium disk with a uniform surface allows for an even distribution of heat, resulting in shorter cooking times and energy savings. The special bottom also makes it possible to use the cookware on all heat sources, including induction cookers.
The set includes:
Saucepan with lid 16 cm - 1.0l
Pot with lid 18 cm - 1.5l
Pot with lid 20 cm - 2.0l
Pot with lid 24 cm - 4.0l
Pot with lid 22 cm - 5.0l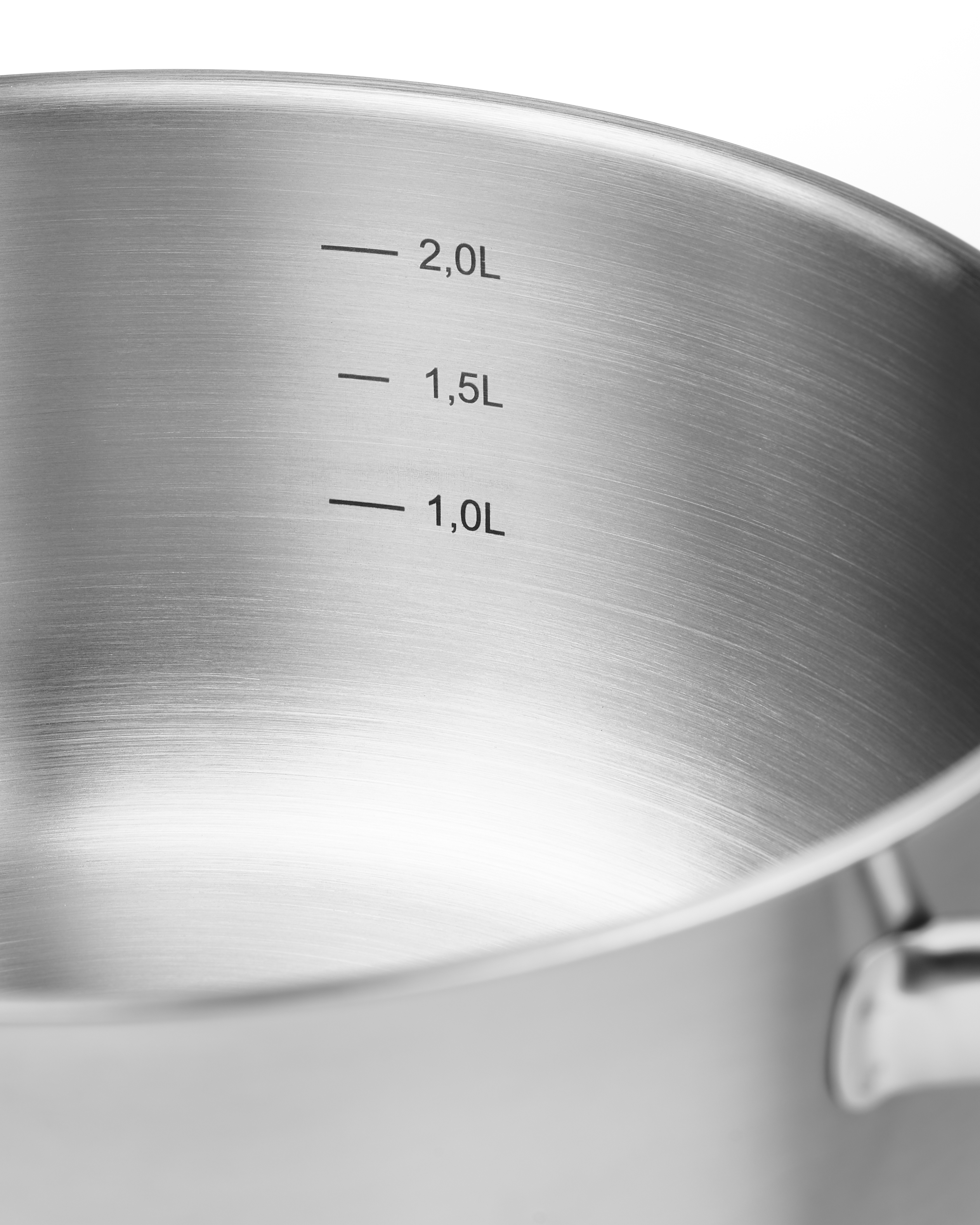 | | |
| --- | --- |
| Stan | Nowy |
| EAN | 5901035502758 |
| Kod producenta | NK343 |
| Marka | Gerlach |
| model name | First |
| Colour | srebrny |
| Materiał | stal nierdzewna |
| Informacje dodatkowe | możliwość mycia w zmywarce|możliwość używania na kuchni indukcyjnej|możliwość używania w piekarniku|nienagrzewające się uchwyty|pokrywka w zestawie |
Customers who bought this product also bought:
No customer reviews for the moment.