8-piece pot set BRAVA
We will send as soon as possible
Najniższa cena w ciągu ostatnich 30 dni: £329.00
Free shipping from 100 GBP!
8-piece cookware set BRAVA - ideal for beginner cooks
The Brava basic cookware set is perfect for everyday kitchen work. Classic design, durability, solid workmanship and top quality are the main features of the products in this line. The Brava pots are extremely functional and ideal for those who are just beginning their adventure with cooking.
The Brava pots are made from top-quality 18/10 stainless steel, which makes them extremely resistant to damage, corrosion, heat and dishwasher-safe.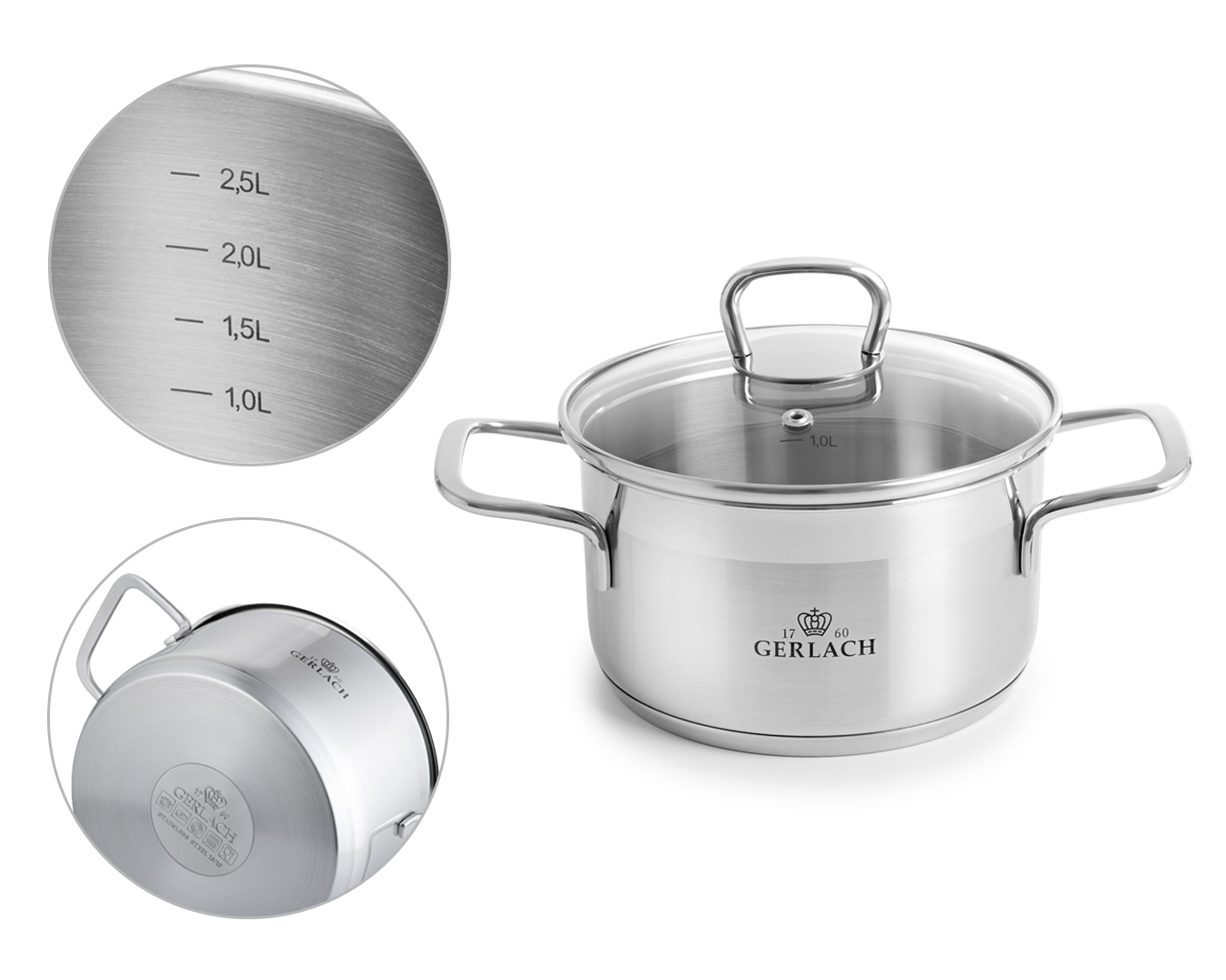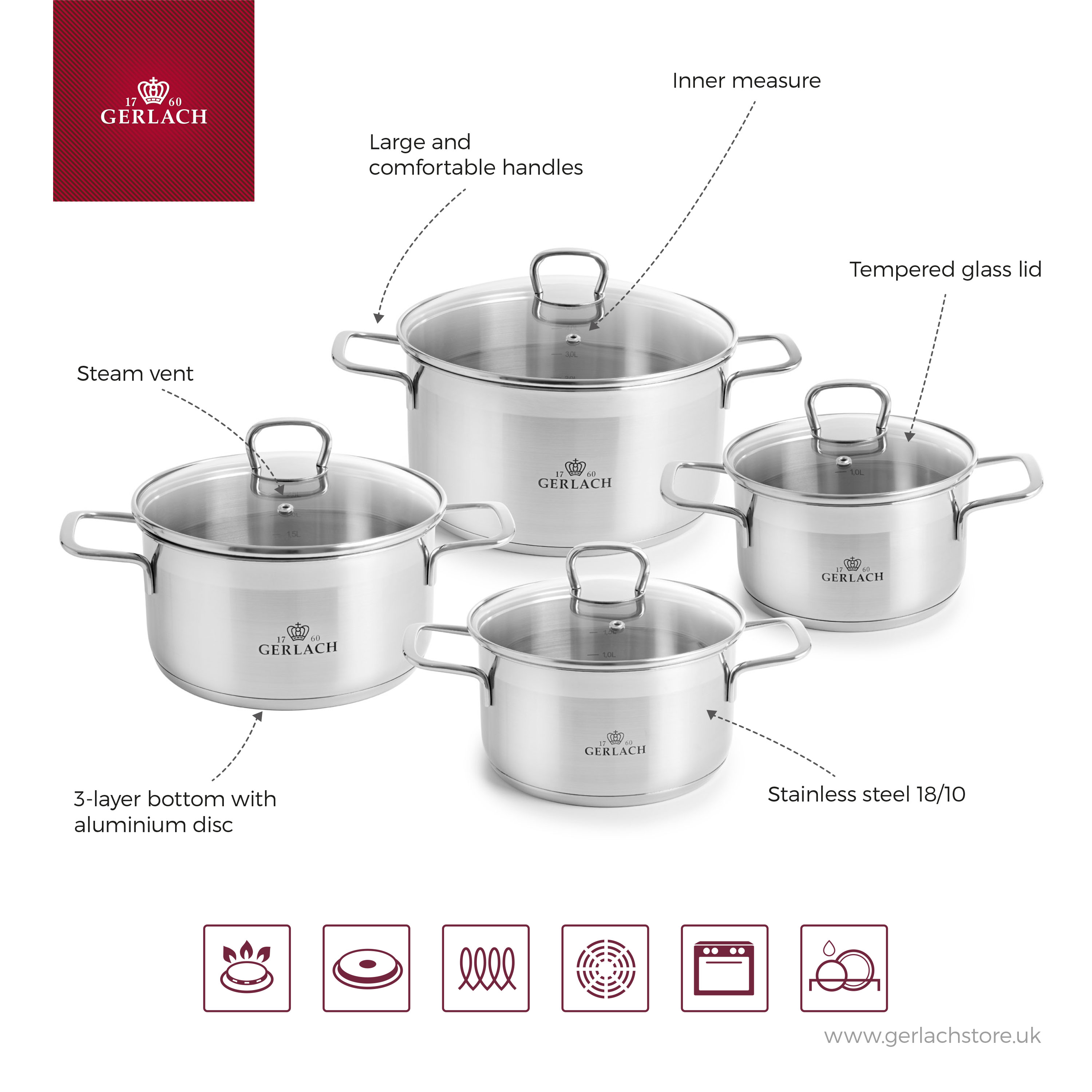 The three-layer bottom with integrated aluminium disk ensures even heat distribution combined with heat storage. Thanks to this feature, cooking is shorter and becomes more energy-efficient. In addition, it allows the cookware to be used on all types of cookers: electric, gas, ceramic and induction. The cookware is also suitable for use in the oven up to 180°C. Please note that temperatures above 180°C may cause discolouration of the cookware.
The matching tempered glass lids sit perfectly on the rim of the pot, ensuring that it is hermetically sealed, the food inside is evenly heated and no nutrient water escapes. The lids have a special vent that draws excess steam to the outside of the pot.
Brava products have large handles that are comfortable to use.
The internal measuring cup allows for quick and easy measuring of the liquids to be poured.
The Brava line is certified by the National Institute of Hygiene.
The steel in the Brava pots is brushed.
The set consists of:
Pot with lid Ø 16 cm - 1.5l
Pot with lid Ø 18 cm - 2.0 l
Pot with lid Ø 20 cm - 2.5 l
Pot with lid Ø 24 cm - 5.0 l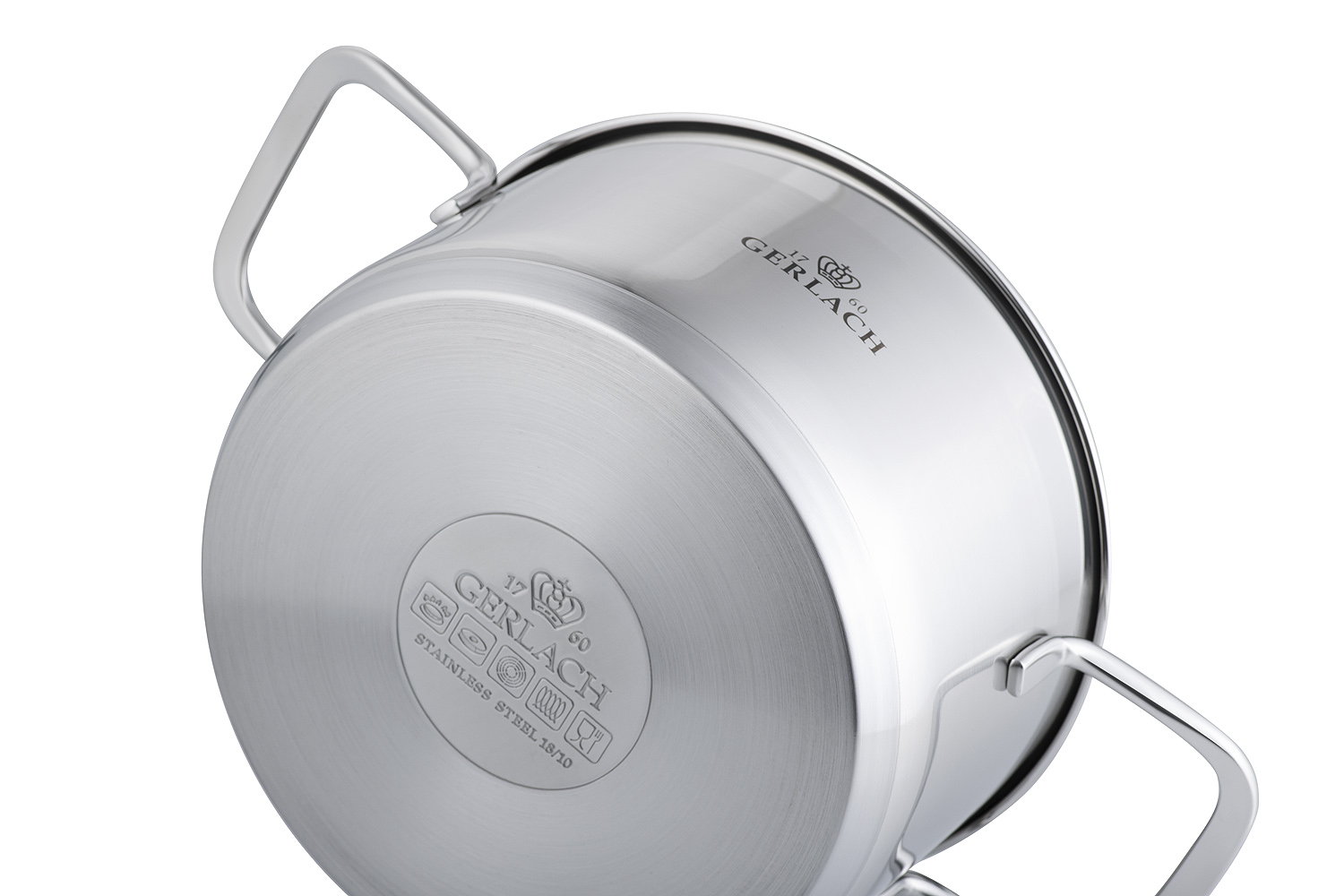 | | |
| --- | --- |
| Stan | Nowy |
| EAN | 5901035998179 |
| Kod producenta | 322P |
| Marka | Gerlach |
| model name | Brava |
| Colour | srebrny |
| Colour | odcienie szarości i srebra |
| Materiał | stal nierdzewna |
| Typ powłoki | inna |
| Informacje dodatkowe | możliwość mycia w zmywarce|możliwość używania na kuchni indukcyjnej|możliwość używania w piekarniku|nienagrzewające się uchwyty|pokrywka w zestawie |
Customers who bought this product also bought:
No customer reviews for the moment.