CELESTIA kpl. kubków 6szt.
We will send as soon as possible
Free shipping from 100 GBP!
RETRO kubek x 6szt.
Linia RETRO dedykowana jest wielbicielom klasyki i elegancji. To wyjątkowa linia w ofercie GERLACH, zaprojektowana na specjalne okazje. Porcelana posiada delikatne reliefy, które czynią ją szlachetną ozdobą stołu. Zainspiruj się pięknem porcelany RETRO, nadając swoim wnętrzom wyjątkowego charakteru.
Royal Ivory Porcelain to najwyższej jakości porcelana w odcieniu ivory, czyli kości słoniowej. Jest wytwarzana ze starannie wyselekcjonowanych, naturalnych surowców, które gwarantują jej wyjątkowy kolor. Jest tworzona w fabryce w Jaworzynie Śląskiej ze 160-letnią tradycją i na każdym etapie produkcji przechodzi ścisłą kontrolę jakości.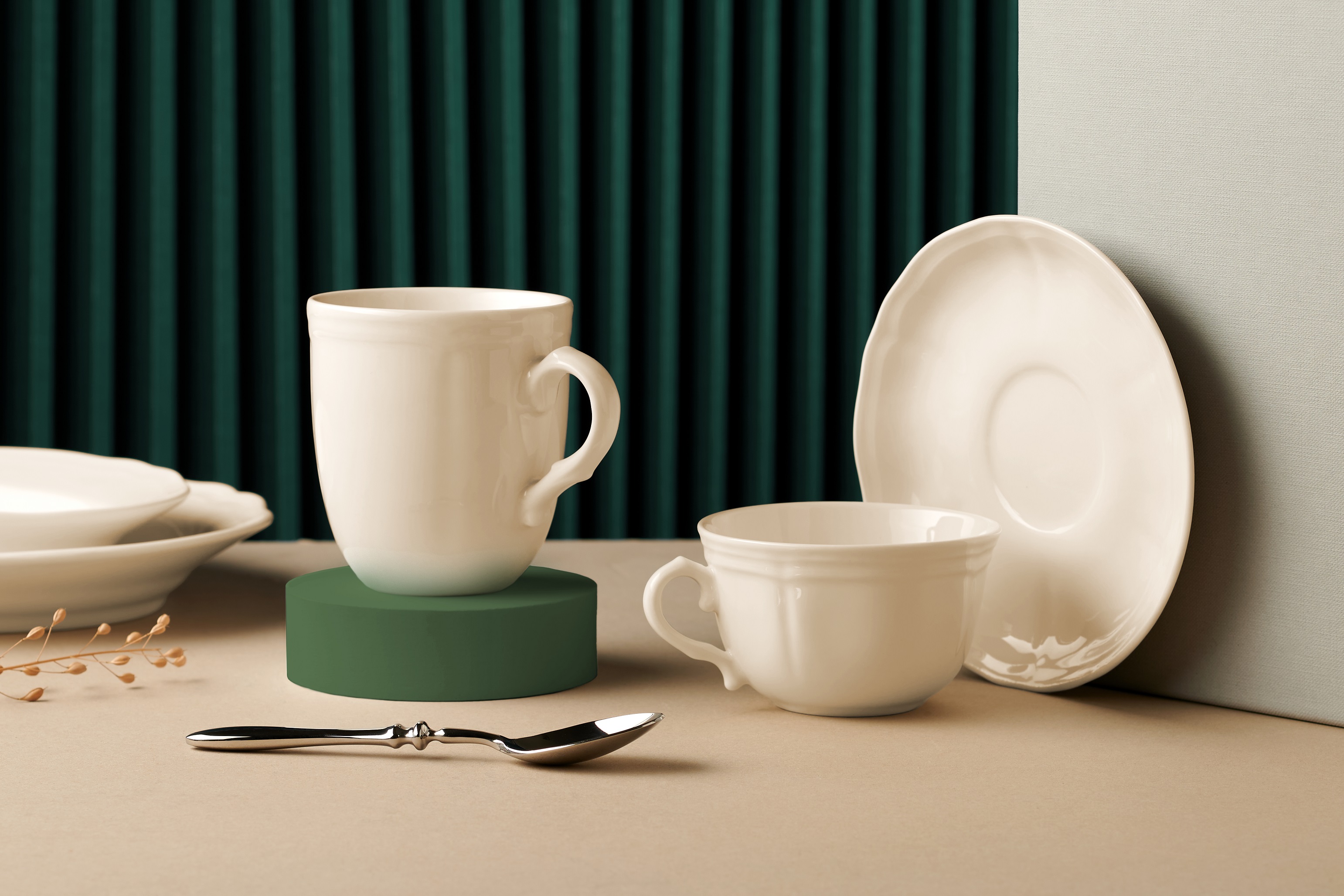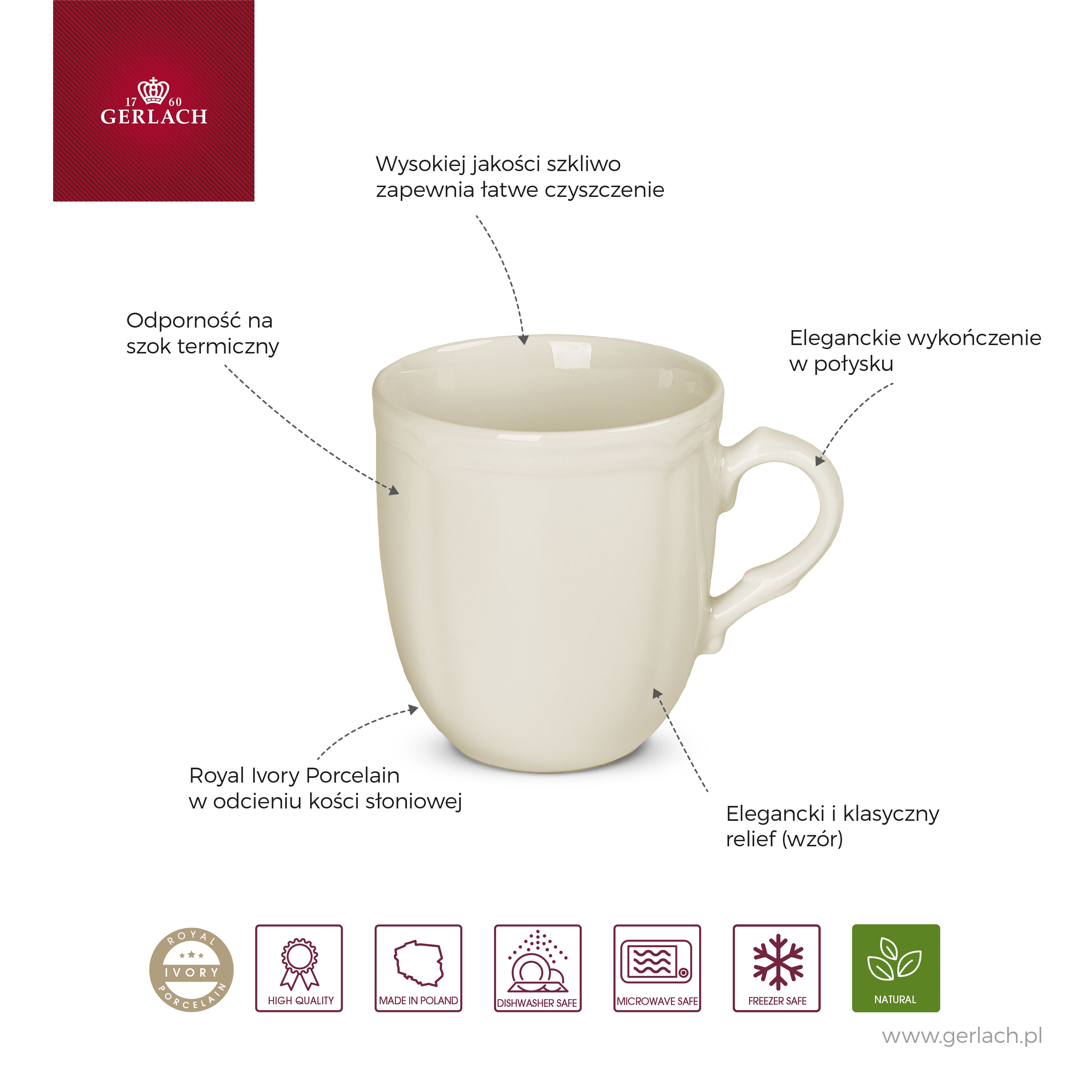 Komplet kubków RETRO zachwyca unikatowym kształtem i elegancją, dzięki ozdobnym reliefom. Kubki sprawdzą się zarówno do eleganckiej jadalni, jak i do biura. Możesz serwować w nich ulubione napoje - kawę, herbatę czy gorącą czekoladę. Ich wyjątkowość sprawia, że to idealna zastawa stołowa na spotkania z bliskimi, np. z okazji świąt, urodzin, czy po prostu w trakcie rodzinnych obiadów.
Porcelana w kolorze kości słoniowej powstaje ze starannie wyselekcjonowanych, naturalnych surowców najwyższej jakości. Jest trwała i w pełni bezpieczna dla zdrowia. Została pokryta wytrzymałym szkliwem, dzięki czemu może być myta w zmywarce. Nadaje się do mikrofalówki. Jest odporna na szok termiczny, dlatego można używać ją w piekarniku do 220°C oraz przechowywania w lodówce i zamrażarce do -30°C. Uwaga, nie należy w szybkim tempie podgrzewać schłodzonej porcelany.
Porcelana została wyprodukowana w Polsce. Jest objęta 2-letnią gwarancją. Dzięki eleganckiemu opakowaniu doskonale nadaje się na prezent, np. z okazji ślubu, przeprowadzki na nowe mieszkanie czy z okazji świąt.
Uzupełnij zestaw porcelany RETRO o wyjątkowe sztućce utrzymane w klasycznym stylu.
Skład zestawu: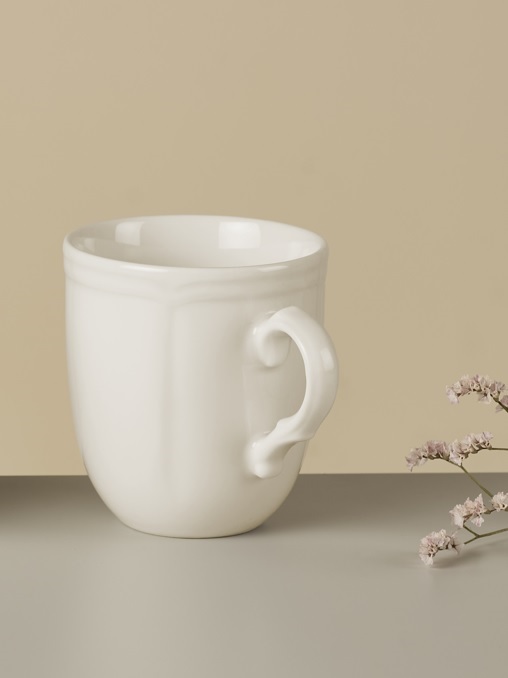 No customer reviews for the moment.