CELESTIA set dinner plates 18 pieces/6 people
We will send as soon as possible
Free shipping from 100 GBP!
CELESTIA kpl. talerzy obiadowych 18el./6os.
Linia CELESTIA to tradycja w nowoczesnym wydaniu. Relief znajdujący się na naczyniach sprawia, że wyglądają one niezwykle elegancko. Porcelana ta doskonale prezentuje sie w różnych wnętrzach, sprawiajac że stają się one przytulne i stylowe.
Royal Ivory Porcelain to najwyższej jakości porcelana w odcieniu ivory, czyli kości słoniowej. Jest wytwarzana ze starannie wyselekcjonowanych, naturalnych surowców, które gwarantują jej wyjątkowy kolor. Jest tworzona w fabryce w Jaworzynie Śląskiej ze 160-letnią tradycją i na każdym etapie produkcji przechodzi ścisłą kontrolę jakości.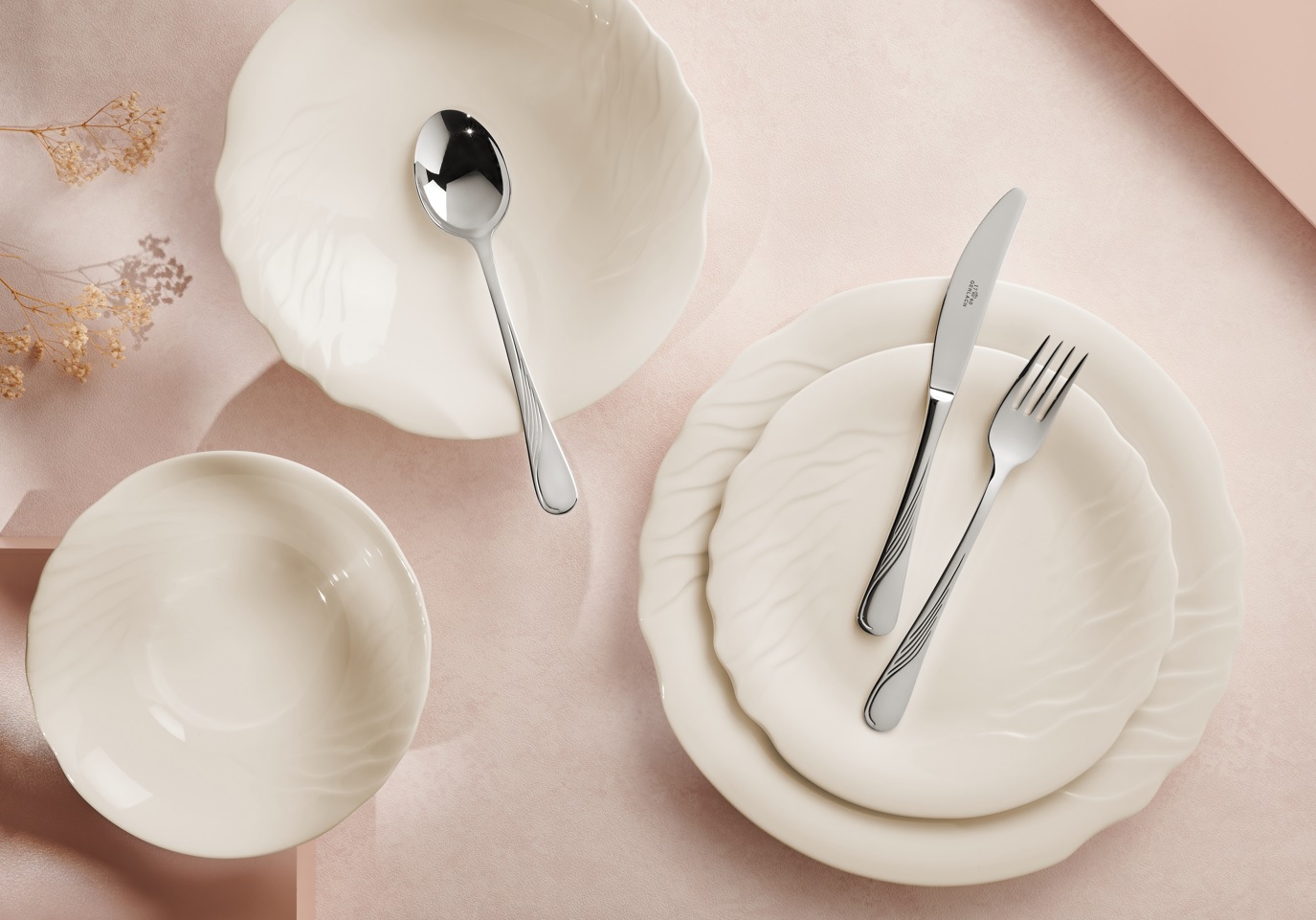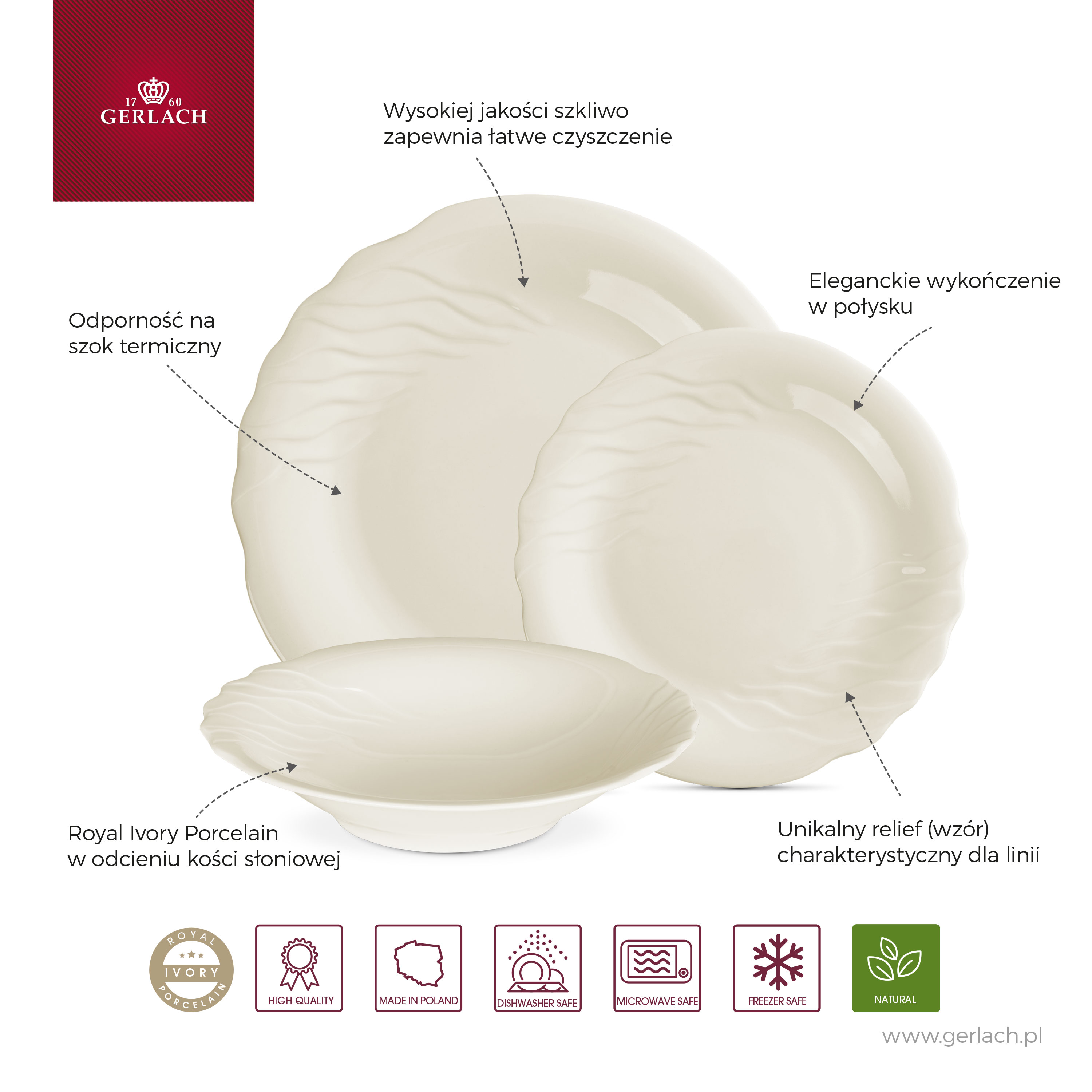 Komplet talerzy obiadowych CELESTIA to idealne rozwiązanie dla tych, którzy chcą podkreślić wyjątkowość każdego posiłku. Ten zestaw z unikalnym, ozdobnym reliefem zawiera trzy rodzaje talerzy: obiadowe, deserowo-śniadaniowe oraz głębokie. Dzięki temu korzystając z niego, można wygodnie podać każdy posiłek. Talerze posiadają łagodnie zaznaczony kołnierz, co zapobiega wylewaniu się płynów i jednocześnie podkreśla elegancki wygląd zastawy stołowej.
Porcelana w kolorze kości słoniowej powstaje ze starannie wyselekcjonowanych, naturalnych surowców najwyższej jakości. Jest trwała i w pełni bezpieczna dla zdrowia. Została pokryta wytrzymałym szkliwem, dzięki czemu może być myta w zmywarce. Nadaje się do mikrofalówki. Jest odporna na szok termiczny, dlatego można używać ją w piekarniku do 220°C oraz przechowywania w lodówce i zamrażarce do -30°C. Uwaga, nie należy w szybkim tempie podgrzewać schłodzonej porcelany.
Porcelana została wyprodukowana w Polsce. Jest objęta 2-letnią gwarancją. Dzięki eleganckiemu opakowaniu doskonale nadaje się na prezent, np. z okazji ślubu, przeprowadzki na nowe mieszkanie czy z okazji świąt.
Skompletuj zastawę stołową w linii CELESTIA, która oprócz pięknej porcelany, zawiera równiez wyjątkowe sztućce z idealnie pasującym ornamentem.
Skład zestawu:
talerz płytki 270mm x 6szt.
talerz głęboki 215mm x 6szt.
talerz płytki 210mm x 6szt.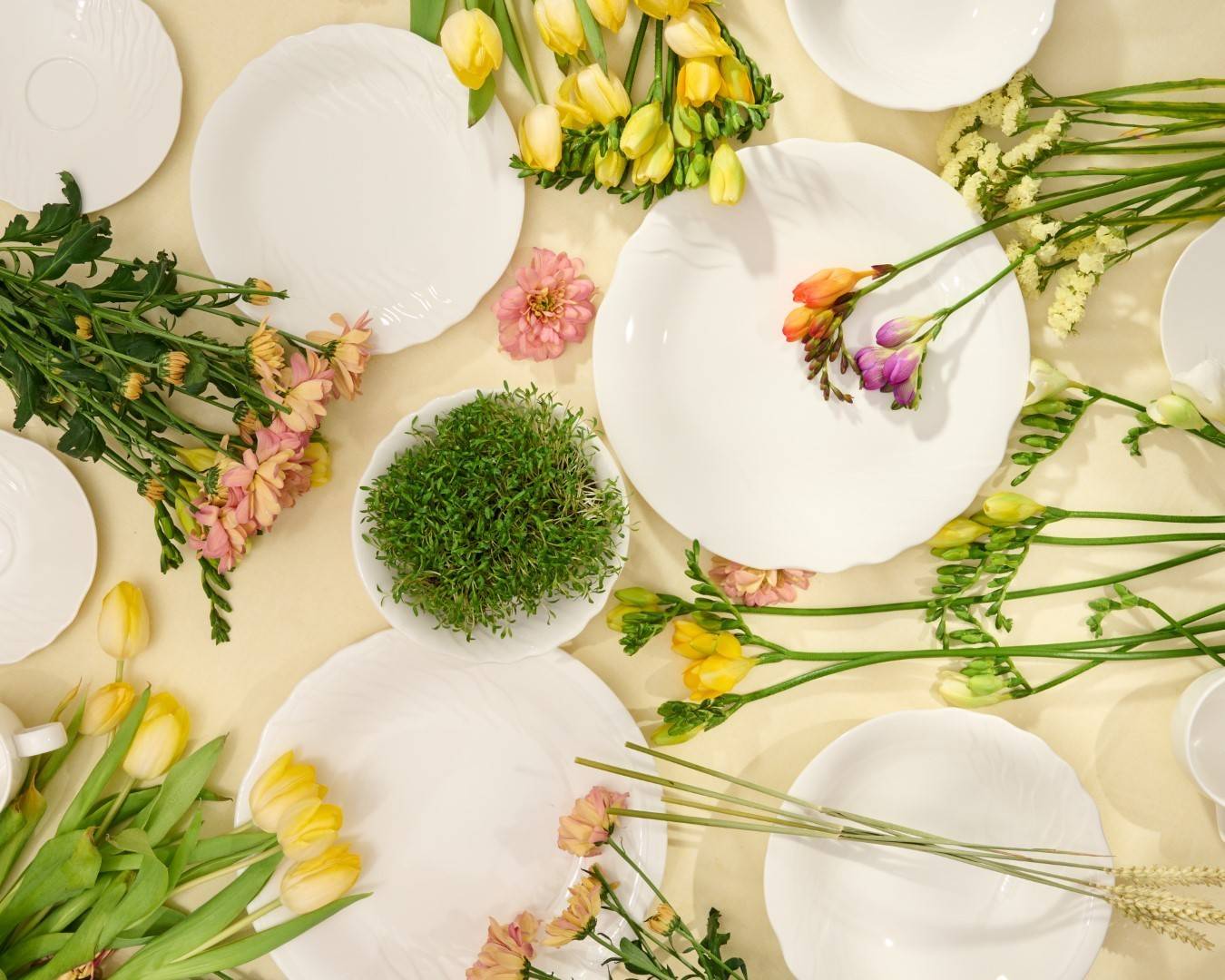 No customer reviews for the moment.